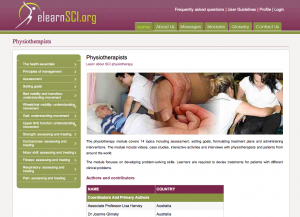 The International Network of SCI physiotherapists (SCIPT) has just launched it's new e-learning website.  The online spinal cord injury learning modules are freely available for everyone to view.
SCIPT is a not-for-profit initiative of physiotherapists worldwide. It is for physiotherapists working in the area of spinal cord injuries although other physiotherapists are welcome to join.  The new website, elearnsci.org, is a comprehensive review of spinal cord injuries.  Over the past year Lisa Harvey, Associate Professor at The University of Sydney, and her team have worked tirelessly to provide this innovative online learning project.  It has modules relating to management by the entire team including doctors, nurses, physiotherapists and occupational therapists, and there is also a specific module related to prevention.
For physiotherapists the module covers 14 topics including assessment, setting goals, formulating treatment plans and administering interventions. Each learning activity include videos, case studies, interactive activities and interviews with physiotherapists and patients from around the world. The module focuses on developing problem-solving skills and learners are required to devise treatments for patients with different clinical problems. This e-learning offering is entirely free to access, all you need to do is sign up for a login.