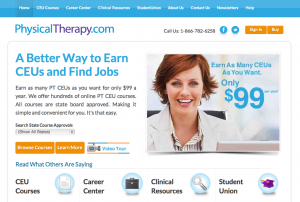 PhysicalTherapy.com, a Silver Physiopedia Sponsor, provide hundreds of online physical therapy and physiotherapy educational courses including webinars and live weekly seminars.  At only $99 a year you can choose to learn from their great database of courses at a time that is convenient for you.  Not only that but if you
sign up with our exclusive code – PHYS12 – you get one extra month free!
The benefits of online learning are great and include allowing you to learn and earn your CPD or CE requirements as a cost and time that is effective and efficient for you.  Physiopedia sees that these benefits are good for the development of our profession and has therefore recently teamed up with 
PhysicalTherapy.com
 to offer you a convenient and easy way to complete your learning and professional development requirements.
Example Courses Include:
The Etiology Of Running Injuries
Updates on Mechanical Low Back Pain
Grant Writing for Health Science Clinicians
Evaluation & Treatment of Peripheral Nerve Compressions of the Upper Extremity
Mechanisms Of Therapeutic Exercise Progression
Overview of Cancer Rehabilitation
A Practical Approach to Evaluating Individuals with Parkinson's Disease.
Access to all these courses and many many more for 13 months (includes a free month) when you sign up using the exclusive Physiopedia code PHYS12.

Sign up now! (insert promotional code on third screen)
Package Benefits:
Earn as many CEUs as you want for 12 months
Hundreds of PT CEU courses to choose from
Presented by leading PT experts
CEU courses approved in all 50 States in the USA
CEU courses offered in multiple formats: Text, Video, Live and Audio
Transcript management
Unlimited access to weekly live seminars
Access to all virtual conferences and symposiums