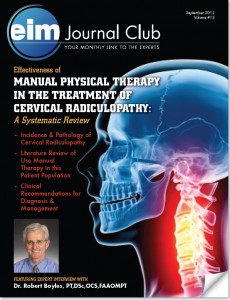 Looking for a fast and easy way to stay on top of the latest evidence without adding hours to your day? EIM's Journal Club is the answer. September marks the second year for EIM's popular Journal Club.  Here is what your peers said about year one…
"Yes, this has been a tremendous resource for me.  Each month has been a wealth of information from so many of the greats in our profession." -Steve Finn, PT, DPT, OCS
"Love the clinical application that I can use immediately. Plenty of support material helps." -Sue Sulley, PT, DPT
"It has been helpful to hear from experts in different areas. As a clinician, it helps to get back to evidence-based information to assist in better clinical decision-making." -Adele Ang, PT
Experience the benefits of Journal Club plus a whole lot more for the low price of $15 per issue!
Download the information to your laptop, smartphone or mp3 player and learn at a time and place that is convenient to you
Watch rich video presentations of the interventions
Learn actionable steps to put the evidence immediately into your clinical practice
12 topics presented by the world's most respected PT s
Bonuses throughout the year  including:

Interview with an Expert Podcast Library
CSM & other Annual Conference Reviews
Day in the Clinic with Tim Flynn, PT, PhD Video
Tip sheets that you can share with your colleagues and patients
The special rate of $15 per issue ends on September 15, 2012.  Act now to take advantage of this limited time offer!
CLICK HERE to learn more about our monthly payment option and be sure to watch our Intro to Journal Club video.