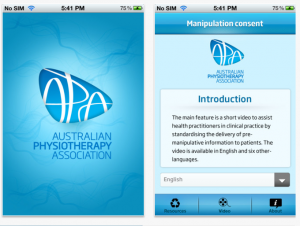 Physiotherapists are responsible for educating patients on the risks and possible complications associated with spinal manipulation, but obtaining informed consent can sometimes be a source of confusion for practitioners.  The new Manipulation Consent app, developed by the Australian Physiotherapy Association (APA), offers physiotherapists a unique way to educate their patients on neck manipulation.
Available for iPhones and iPads, the app gives physiotherapists a convenient and comprehensive way to obtain informed consent. The app includes an 80 second video that demonstrates the process of neck manipulation, what patients can expect and the potential risks. This video is available in seven languages to ensure that the information required for informed consent doesn't get lost in translation.  The app also includes a patient education fact sheet, informed consent labels, clinical guidelines and VBI assessment and cervical treatment flowcharts. These resources can be printed or emailed from the app.
"Physiotherapists are committed to their ethical and legal obligations to disclose any risk to their patients prior to an examination and treatment," APA president Melissa Locke said.  "The APA recognises that there can be some confusion as to how to obtain informed consent; and the process can be complicated by language restrictions, patient comprehension and time management. This app allows physiotherapists to communicate clearly and effectively, and ensure patients understand any risks associated with the procedure," Ms Locke said.  "Patients can also use this app to access detailed information on spinal manipulation. We also urge them to discuss their treatment with their physiotherapist."
The Manipulation Consent app is available for $2.99 from the iTunes App Store.