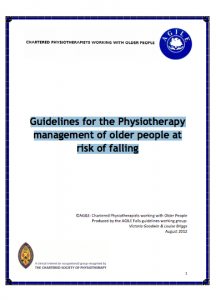 New "guidelines for the Physiotherapy management of older people at risk of falling" were recently launched at the World Congress on Active Ageing.  The guidelines, developed by Agile, the CSP professional network for physios working with older people, are the first in the UK with a solely physiotherapy focus.
Among the updates are an increased emphasis on the steps that physiotherapists can take to help prevent falls, including specific recommendations on exercise programmes, which should have a high balance challenge component, and be delivered at a high 'dose'.   The new recommended 'dose' is 50 hours – roughly twice a week for six months.
The document is a mix of key messages, practice points to consider, and four aims which cover: preventing falls, improving older people's ability to withstand threats to their balance, preventing the consequences of a long lie and optimising confidence and reducing fear of falling.