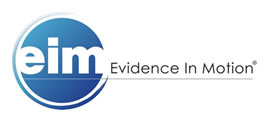 Thanks to our sponsors we are able to bring Physiopedia and all it's physiotherapy and physical therapy knowledge resource to you and all free of charge!  We are eternally grateful to all those who contribute to the Physiopedia project and like to give a little something back to those who make these contributions.  Please allow us to introduce you to Evidence in Motion(EIM) who continues to be a Gold Sponsor of Physiopedia into 2013.
EIM is on a mission to continually elevate and move the physical therapy profession forward by discovering and translating the best, latest evidence into physical therapy practice.  They envisage a healthcare delivery system with exceptionally well-educated and skilled physical therapists positioned as the first point of contact in addressing the diagnosis, prevention, and interventions related to movement disorders.
In order to achieve this EIM's primary function is to provide a wide range of top-notch postgraduate and continuing education programs for physical therapists. Their flexible educational offerings are the perfect blend of online and hands-on training and our faculty is comprised of world renowned physical therapy experts with extensive experience in academia, research, and practice management.
EIM's educational offerings and products include: Continuing Education, Orthopaedic Physical Therapy Residency, Sports Physical Therapy Residency, Orthopaedic Manual Physical Therapy Fellowship, Manual Physical Therapy Certification (US and International curriculum), Executive Program in Private Practice Management with optional tDPT, Transition Doctorate of Physical Therapy (US and International Curriculum, and online learning products such as eBooks, the EIM Mobile App, and the EIM Online Journal Club.
EIM has chosen to sponsor Physiopedia because "we support their mission to disseminate evidence-based knowledge and research to a global audience to improve patient care. EIM shares many of the same goals relating to elevating and promoting physiotherapy in the international health care community."   We concur and enjoy collaborating with like minded organisations to empower physiotherapists and physical therapists world wide. With our sponsors support and with your contributions, together we can bring universal access to physiotherapy knowledge.
Find out more about Evidence in Motion