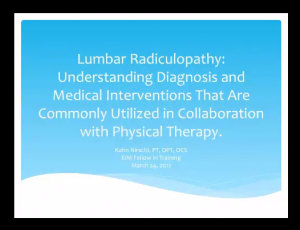 Physiopedia has two new FREE online presentations to offer you!  Both are created by the talented people that study with the Evidence In Motion (EIM) Orthopaedic Manual Physical Therapy Fellowship.  These presentations always provide us with a great evidence based overview of their title topic and are gratefully offered to us all free by the course providers through which they were created at EIM.
Lumbar Radiculopathy: Understanding Diagnosis and Medical Interventions That Are Commonly Utilized in Collaboration with Physical Therapy was created by Kahn Nirschl discusses diagnosis and medical interventions that are commonly utilized in collaboration with Physiotherapy.
Differential Diagnosis & Management of Common Wrist & Hand Disorders was created by Brett Beuning and discusses differential diagnosis & management of common wrist & hand disorders.
See these presentations and more…..