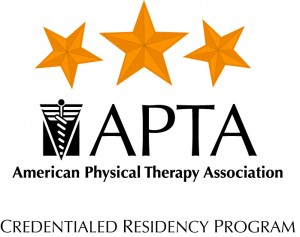 The Evidence In Motion (EIM) Institute of Health Professions, created to assist in the continued education of physical therapists, is excited to announce the credentialing of their Sports Physical Therapy Residency Program by the American Board of Physical Therapy Residency and Fellowship Education (ABPTRFE) of the American Physical Therapy Association (APTA). EIM earned the ABPTRFE seal of approval in June 2012 and will be presented with the official certificate at the 2013 Combined Sections Meeting opening ceremonies. Credentialed residency programs create and promote standards of quality in both the teaching and practice of physical therapy.
"We are thrilled to receive this respected credential from the APTA," states Dr. Teresa Schumann, PT, DPT, SCS, ATC, CSCS, EIM Sports Physical Therapy Residency Director. "We believe that post-professional residency training is critical to the future of our profession and the best method for physical therapists to pursue board certification. This prestigious accreditation is a testament to the quality of the Sports Residency Program and other programming that EIM offers to physical therapists seeking post-professional education."
EIM's Sports Residency Program is a combination of online learning, hands-on courses, and athletic venue hours. EIM's program is unique in its ability to provide physical therapists the opportunity to participate in a first-rate post-professional sports residency without moving from their current location or place of employment. The program is designed to:
Increase the confidence of (sports) physical therapists to provide care to patients with athletic injuries
Achieve a strong knowledge of preventative and rehabilitative evidence-based sports therapy that can be immediately applied to practice
Position (sports) physical therapists to achieve board certification in sports physical therapy upon completion of the program
For more information about pursuing fellowship or residency training or and to access additional information about all of EIM's programs, please visit http://www.EvidenceInMotion.com .
About Evidence In Motion:
Evidence in Motion (EIM) is an education and consultation company whose sole reason for existence is to elevate the physical therapy profession and the role of physical therapists in healthcare delivery. A strong dedication to fostering the creation and assimilation of an evidence-based practice culture within the physical therapy profession is a cornerstone of Evidence in Motion's mission. EIM aims to promote the global sharing of information and ideas, thus advancing evidence-based physical therapy practice, research and education around the world. Evidence In Motion offers Continuing Education, Residencies, a Fellowship Program, a Musculoskeletal Transition DPT, and an Executive Program in Private Practice Management with optional Transition DPT. For more information, please visit EvidenceInMotion.com. You can also find Evidence In Motion on Facebook and Twitter.