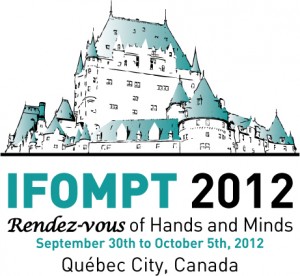 Physiopedia and the International Federation of Orthopaedic Manipulative Physical Therapists (IFOMPT) are excited to announce a new partnership which aims to promote knowledge translation and expand orthopeadics and manual therapy online.  This partnership will extend orthopaedic and manual therapy knowledge  and discussion beyond the upcoming IFOMPT conference and into the open global space.  The idea is to enable universal access to new knowledge and surrounding discussion that occurs at the IFOMPT conference allowing for a speedy knowledge translation process.
IFOMPT is the largest recognized sub-group of the World Confederation of Physical Therapists (WCPT) representing 21 member organisations that each have a representative at the Federation table. As a group, their mission is the "worldwide promotion of excellence and unity in clinical and academic standards for orthopaedic manual / musculoskeletal physiotherapists".  It encourages improved standards of education and clinical practice throughout the world and sees a partnership with Physiopedia as a great method of promoting knowledge translation.
"This partnership is important and inspiring to us", said Rachael Lowe, Founding Director of Physiopedia.  "Through this collaboration with IFOMPT we will be able to promote a speedy knowledge translation process in relation to orthopaedic and manual therapy knowledge".  Through this partnership Physiopedia will be in attendance at the upcoming IFOMPT Conference which takes place between 30th September and 5th October 2012 in Quebec City to provide the speedy translation of knowledge from the event into the global open space.  This will by no means be a replacement for attending this this World Congress of Manual/Musculoskeletal Physiotherapy but will contribute to both parties missions of expanding the online presence of physiotherapy knowledge.