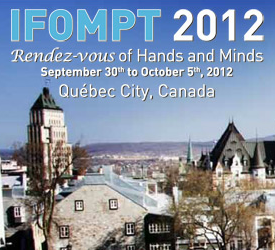 The International Private Practice Association (IPPA) has partnered with the International Federation of Orthopaedic Manipulative Physical Therapists (IFOMPT) for the upcoming 2012 Conference to be held in Quebec City, Canada from September 30th to October 5th, 2012.  Don't miss out, get your early bird ticket before June 4th!
This World Congress of Manual/Musculoskeletal Physiotherapy is held only once every 4 years and will be the next international gathering of physiotherapists and physical therapists in 2012.  IFOMPT is the largest recognized sub-group of the World Confederation of Physical Therapists (WCPT) and after the huge success of World Physical Therapy in Amsterdam last year this will be your next opportunity to join a large international gathering from the physiotherapy and physical therapy profession.  Keynote speakers including David Butler, Gray Cook, Gwendolen Jull, Karim Khan, Prof. Peter O'Sullivan, Annelies Pool, Shirley A. Sahrmann, Joy MacDermid, and Dr Stuart Gowland will join invited speakers and symposium presenters in a packed program that brings you the very latest in research and clinical practice. In addition to this, the conference itself is sandwiched between a plethora of courses from renowned international teachers including David Butler, Dianne Lee, Duncan Reid, Peter O'Sullivan and many more.
The IFOMPT Conference this year is being hosted in Québec City, Eastern Canada.  Condé Nast Traveler readers have listed Québec City amongst the top 10 favorite tourist destinations around the world and first in Canada! European flavour, cobblestone streets, sidewalk cafés, museums and several other attractions are among the treasures waiting for you to discover in beautiful Québec City. Declared as a World Heritage Site by the UNESCO in 1985, Québec City is the only city in North America to have preserved its original fortifications. The province of Québec's capital is known to be one of the safest urban districts of the world ans is a bilingual (French/English) destination.
Registration for this conference is now open.  To get your early bird ticket make sure you register before June 4th!  Don't miss this exceptional opportunity to meet colleagues from all over the world who share your interests and enthusiasm for our profession.  We look forward to seeing you there!