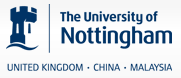 We would like to welcome the University of Nottingham Division of Physiotherapy as the latest Gold Sponsor to the Physiopedia team.  Our readers know Physiopedia as an innovative project that supports the free dissemination of knowledge and collaboration within the global physiotherapy profession. Our sponsors know us as that too and as thanks to our sponsors we like to introduce them to our readers and let them know a little more about who they are and what they do.
University of Nottingham Division of Physiotherapy is not only one of the most popular courses at Nottingham, but Nottingham is possibly the most popular place to study physiotherapy in the UK. The Division of Physiotherapy believes that this popularity is based on their reputation for providing education within a supportive and nurturing environment, which not only develops the individual, but produces first class physiotherapists.  The University of Nottingham is also a thriving research environment for students. In the Division of Physiotherapy Education their research aims to increase knowledge about the efficacy of physiotherapy interventions for people with neurological and musculoskeletal conditions and to increase understanding of the causes and characteristics of their movement deficits.
To find out more about University of Nottingham Division of Physiotherapy visit the University of Nottingham Division of Physiotherapy page in Physiopedia or visit their website.
Interested to see our other sponsors, the exceptional physiotherapy and physical therapy related companies and organisations that support our mission of "universal access to physiotherapy knowledge"?  Have a look on our Sponsors page and thank them by following them using our Twitter list.
Interested in being a Physiopedia sponsor? As well as the general public, our readers are physiotherapists and physical therapists, and other health care workers from all over the world. To find out more about our sponsor packages, visit our sponsor page or email Rachael.