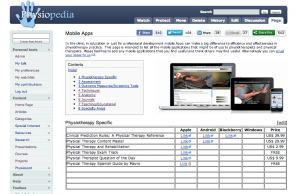 In the clinic, in education or just for professional development mobile Apps can make a big difference to efficiency and effectiveness in physiotherapy practice.
Approximately three quarters of the world's population now has access to a mobile phone, according to a new study from the World Bank, according to a new report entitled "Maximizing Mobile" from the World Bank.  The number of mobile phone subscriptions has skyrocketed over the past 12 years. Fewer than 1 billion mobile subscriptions were active in 2000, while there are six billion subscriptions active today. Last year alone, mobile users downloaded more than 30 billion apps. Additionally, the vast majority of today's mobile subscriptions (5 billion) are in developing countries, a sign of mobile technology's importance in countries which haven't gone through the expensive and difficult process of building land-based communications infrastructure.
The rapid proliferation of mobile communications and phone applications has significant global consequences for health care.  We can now access information "on-demand"  in the clinic when we need it and apply it to our practice without delay.  The Clinically Relevant set of apps are a good example of evidence based clinical answers and skills that can be accessed as and when we need them.  The consequences of this on-demand access to information will have an effect on effectiveness, efficiency and therefore may result in cost savings.  But not only this, clinicians in less resourced working environments that didn't previously have access to even text based information suddenly have all that they need available at their fingertips.  This is a significant leap forward for global health.
In response to this growing demand for mobile applications that can be used in our practice Physiopedia has created a Mobile Apps page that lists all the mobile applications that might be of use to physiotherapists and physical therapists. This page is open to be edited by members of the physiotherapy and physical therapy community so please add any mobile applications that you find useful.
How to add an App to the Mobile Apps page in Physiopedia:
Login to Physiopedia (you must be logged in to edit the site. Don't have an account, you can get one here)
Go to the Mobile Apps page
Choose which table your app should be listed in, click on Edit on the right of that tables title
Fill in the details of your app under each heading as appropriate by just typing into the box (to add links see Making Links tutorial)
When you have finished, scroll to the bottom of the page, click Save
It really is that simple!  If we all add just one app that we find useful, before long we could have a great resource listing our very own physiotherapy and physical therapy specific apps.