As part of this month's learn topic in the Physiopedia Members area psychosocial approaches to pain we have been fortunate to record a 40 minute interview with Dr Hubert van Griensven PhD MSc (Pain) MCSP DIP Ac.
Hubert van Griensven qualified as a physiotherapist in 1988. He has worked as a clinical specialist in pain, working with the internationally renowned pain management unit of Guy's & St Thomas' Hospital Trust for six years. Hubert also has a deep interest in eastern approaches to treatment of pain, practicing acupuncture and meditation techniques.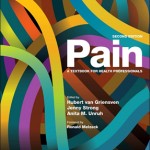 Hubert gained an MSc in Pain from King's College London in 2004, and in 2005 published the textbook "Pain in Practice: Theory and Treatment Strategies for Manual Therapists". More recently Hubert has become a Research Fellow at the University of Brighton and is also the lead editor of a new book "Pain: a textbook for health professionals" which has just been published by Elsevier.
View Hubert's profile on LinkedIn.