Philippines Typhoon
– the WCPT report how physical therapists are getting involved and provides links for making donations to the relief effort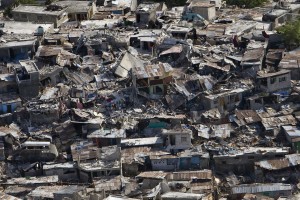 The focus of the fifth week of the global health course has been foreign policy, trade and health. Health is now recognised as a key factor in international relations and so it is now a prominent feature of diplomacy between countries and in international trade agreements. In these transactions between nations the global health concerns are often brought into conflict with issues of self-interest (e.g. the protection of a country's own pharmaceutical and medical product industries) and so the outcomes of these agreements do not necessarily promote the global health issue above all other interests.
Another aspect of health where international cooperation is regularly seen to occur is in humanitarian and emergency responses following natural and human made disasters and conflict. It seemed appropriate to use this week as an opportunity to briefly review how the physiotherapy and physical therapy profession contributes to such efforts and to highlight ways we can get involved now and in the future.
Physiotherapy / Physical Therapy in disaster management
Once the immediate emergency is over and the television cameras and journalists have moved on there is still much work physical therapists can do in disaster zones to build for the future. WCPT
There are four recognised aspects of disaster management:
Disaster prevention – environmental planning and design standards to reduce the impact of a disaster.
Disaster preparedness – national and community based planning for evacuation, rescue and healthcare.
Disaster relief – multi-agency provision of rescue, relocation, shelter, food and water, emergency healthcare, vaccinations etc.
Disaster recovery – rebuilding infrastructure, health care and rehabilitation.
Of these the recovery phase is where the role of physiotherapy is most recognised. However the profession also has the skills to make important contributions in the preparedness and relief phases. Below is a recording of a discussion panel at WCPT congress 2011 "Re-building for good: how physical therapy projects can bring long-term sustainable benefits in conflict zones and disaster areas".
Waldrop 2008 describes how physical therapists can play a significant role in disaster relief but their abilities are often not well understood by the emergency planners and "physical therapists in disaster situations tend to undervalue their own skills" despite being ideally equipped to carry out tasks such as vital sign assessment, triage, wound care and injury assessment. Nixon et al 2010 note that there is very little literature on maximising the effectiveness of physical therapy in disaster relief on which to base best practice guidelines.
We argue that the PT community has a social responsibility to identify and investigate timely, important, and appropriate research questions that will enable us to learn empirical lessons from the experience in Haiti and thereby inform responses to future disasters.
Fanes et al 2012 provide one such study that interviews eleven Physical Therapists who participated in disaster relief work in Haiti. They document several quotes from these interviews which provide a vivid insight into their experiences:
I think sometimes you forget that no matter where you are practicing that we have so much knowledge to give. Haiti reminded me of that… …it ended up changing my life. And it really ended up impacting what I thought about therapy. (Jayne, PT, USA) Fanes et al 2012
Another insight into the experience of volunteering is provided by UK physiotherapist Joanna Woodrow (2010) who shares her experiences and explores the role of physiotherapy in the wake of the Haiti earthquake.
Resources for volunteering
The World Confederation for Physical Therapy provides a series of resources to support the profession's role in disaster management:
Opportunities for volunteering
Implications for Physiopedia
The role of physiotherapy / physical therapy in disaster management is not a subject currently covered in Physiopedia articles.
Current opportunities for volunteering should be promoted on Physiospot and via Physiopedia's social media activities.
Voice posts on Physiospot could be used to share volunteers experiences working in these types of roles.