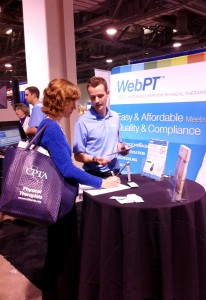 That's a wrap! Last week we attended the California Physical Therapy Associationannual conference. Held in Long Beach, the conference drew over 1,250 attendees from across California.
We had a great time sharing WebPT with potential new members. We posted most of our photos of the conference on Flickr. Check them out here.
We gave demonstrations and answered questions by inquisitive Physical Therapists. We even had a few members who were happy to see us! One our WebPT members, Kathy Grimsby stopped by to share with us what she likes about WebPT.
Kathy Grimsby MPT, MOMT – Balance Plus Physical Therapy from WebPT on Vimeo.
The conference provided a wealth of continuing education courses for current PTs. We also saw a lot of students attending to learn about current techniques and job opportunities. A lot of the students who stopped by the WebPT booth were very excited to learn about entering the workforce and using iPads for documentation.
A lot of them still use paper in documentation courses and internships. We're excited about the future of documentation, too! Some of those students even participated in poster presentations in the exhibit hall.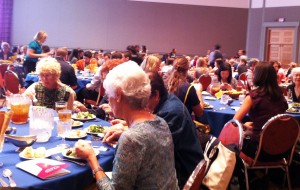 We even attended the awards luncheon on Friday.  The room was packed and full of energy! During the ceremony, the CPTA honored those legacy members who have been members for over 40+ years. Wow! The Association also recognized leaders, young and old, who contribute on both the local and national level.
The CPTA annual conference was a great way for us to keep our finger on the pulse of what's new for the California PT community. And everyone we asked said they were having a great time at the conference. We look forward to another exciting event next year!
Lindsay is a blogger for WebPT, Inc. a Phoenix-based software company that has tripled in size over the last 12 months.  WebPT develops the leading Web-based EMR for Physical Therapists. It is the easiest, most affordable, and most complete solution for physical therapy clinics on the market today. WebPT ensures compliance, security, and efficiency while providing a truly mobile solution that meets the needs of today's PT. For more info, Web-based EMR for Physical Therapists.