There are many challenges that face today's busy musculoskeletal physical therapist / physiotherapist. Staying up to date with exercise prescription best practice, based on the latest evidence, is one of the most important and also most difficult.
As practicing clinicians facing this issue themselves, the team at Clinically Relevant recognised the need for a simple to use tool to support this aspect of practice. Drawing on their own clinical experience, feedback from colleagues and following a long period of testing and development, this ultimately led to the release of an iPad app specifically designed to support all musculoskeletal therapists in selecting and adapting exercise programmes for a wide range of musculoskeletal conditions. This app called TherexRx includes a comprehensive set of exercise prescription resources including exercise images, exercise videos, links to related studies, sample exercise packages and accompanying evidence based patient handouts to support the prescribed exercise programmes.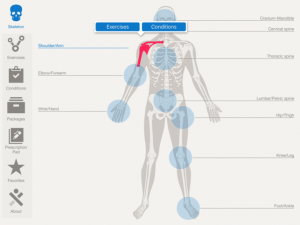 The TherexRx app is currently available for the iPad. The app can be installed and tested for free for 90 minutes from the Apple Appstore. If you wish to make long term use of the app, you can subscribe for full access with either a monthly or an annual payment.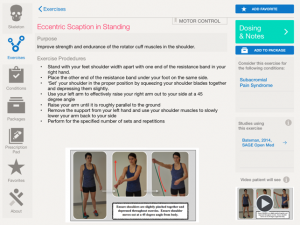 Following testing of the app by the Physiopedia team the feedback has been clear:
"The TherexRx app is great. I love the information handouts and the summaries they give to therapists re specific conditions. Education is a great tool of empowerment for clients and they usually greatly appreciate it. A thumbs up for Clinically Relevant!"
"I've just tried the new Therexrx and it's pretty impressive. An easy user friendly way to keep you and your clients up to date with evidence based information and treatments. Also has some good interactive videos to watch regarding treatment etc. Good reference tool and good exercise prescription sheets matched to certain conditions. Certainly would impress your clients. Lets you and clientele know you are on top the latest data and informed treatment techniques. A great asset."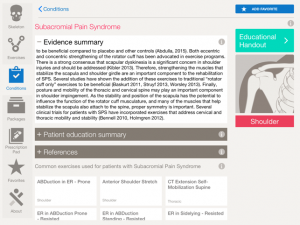 See more information on the TherexRx app on the Clinically Relevant website.
Go to the the TherexRx Appstore listing to learn more about this app and to try it out.
Watch a short video which provides an overview of the TherexRx app: