Clinical reasoning – a quality we inherently posses, or something that is learned through pedagogy and experience? Perhaps you are like me, and believe it is a combination of the two. Arguably, those with strong critical thinking skills are naturally drawn to healthcare; a realm which encourages both your given talents (nature) and your developed talents (nurture). To this end, I believe that clinical reasoning is a skill that is fundamental to our profession. Our ability to assess complex situations, weigh potential outcomes and implement a course of action is essential to our success as a physiotherapist / physical therapist (PT).
The book Clinical Reasoning in the Health Professions has become a keystone manual to understand the practice of making decisions within a healthcare environment. The fourth edition was published in 2018, as an intuitive progression of the previous 3 editions which have been widely employed in university curriculums around the world.
The 4th edition is a comprehensive text on the various dimensions and considerations of clinical reasoning, as a core competency of any healthcare professional.  The editors include:
The fourth edition expands on the preceding literature on clinical reasoning by evaluating the importance of narratives, languages and cultural nuances when making a clinical decision. The main areas developed within the fourth edition include, but are not limited to; the changes brought forth by digital communication, the challenges faced by healthcare professionals in an increasingly consumer driven healthcare system, the new stresses and trends affecting our healthcare system, such as the ageing population in many countries around the world and the greater emphasis on decision sharing between patients and clinicians.
Moreover, this text specifically sets out to examine the complex phenomenon of clinical reasoning across six areas of consideration (Higgs et al., 2018):
Understanding Clinical Reasoning
The Changing Context of Clinical Reasoning and Practice
Collaborative and Transdisciplinary Reasoning
Clinical Reasoning and The Professions
Teaching Clinical Reasoning
Learning Clinical Reasoning
The text boasts an impressive 5 pages of contributing authors of all healthcare professions, including: Physicians; Nurses; Optometrists; Dentists; Speech Pathologists; PTs; and Occupational Therapists.  These healthcare perspectives are represented by various and diverse healthcare professionals from around the world, providing a truly diversified perspective to this issue. Outlined amongst its 47 chapters are topics ranging from traditional decision making models, healthcare frameworks and how to contextualize and apply them within a modern context.  Each chapter cleverly presents:
Key words and associated definitions;
Learning objectives;
Helpful theoretical and classical models;
Modern contextual examples of each presented model;
Reflection points to challenge the reader;
Case studies and vignettes to bring clinical reasoning discussions to life; and,
An exhaustive literature review for each chapter.
This is a comprehensive text, with great value and relevance to students, teachers and clinicians as an educational tool and reference manual.  Whether you are still learning your vocation, or you are a seasoned professional, this book has utility to everyone.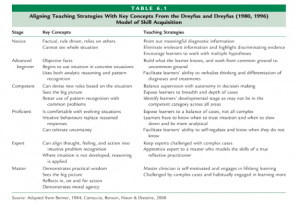 Each section presents clear summary tables and infographics to supplement its main messages. Two pertinent examples include Table 6.1 (left) and Figure 6.1 (below). Table 6.1 outlines how to best align teaching strategies with the stage of the learner (ie. novice through master). This is worth studying for any educator who wishes to adapt their content delivery method to the stage of the targeted learner. Figure 6.1 compliments the table by graphically showcasing the model of expertise within the context of physiotherapy.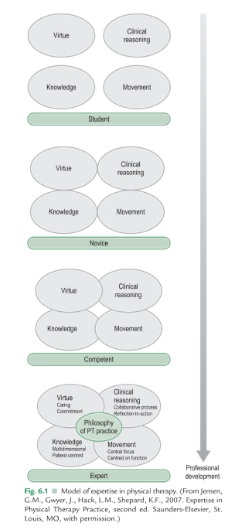 Interestingly, the figure and associated chapter on expertise and clinical reasoning, suggests that it is not clinical experience alone that allows a professional to become an expert.  Rather, it is a combination of factors that progressively intersect throughout your career and allows you to achieve a level of expertise.
As a Physiotherapist, I found Chapter 17: Shared Decision Making in Practice and Chapter 44: Learning to use Evidence to Support Decision Making were of particularly relevance.
Chapter 17: Shared Decision Making in Practice
As outlined by the authors (Costanzo, Doll & Jensen), we are increasingly faced with new collaborative and dynamic approaches to healthcare services. Decision making has evolved within the realm of healthcare, from a paternalistic model (the provider makes the decision), to a consumerism model(where the consumer makes the decision without involvement of a provider or healthcare team) to a shared decision making(SDM) model, where patients, providers and an inter-professional team are involved in the decision making process (page 181).
The chapter astutely outlines key considerations with a SDM model, such as cultural and organizational factors, shared values, strong communication efforts and a mutual trust amongst professionals. It also frames how technology (eg. electronic health records) can enhance the implementation of a SDM approach, and empower patients. This is pertinent to us as PTs, as our practice increasingly leverages technology for clinical outcome measures, performance training aids, and even electronic healthcare records. The impact of technology on our clinical decision making is ever important to consider.
This chapter is a must read for anyone newly introduced to a shared decision making practice within their working environment. It emphasizes a collaborative approach to healthcare, which is ideal in theory, but may be a challenge to implement within every day practice.
Chapter 44: Learning to use Evidence to Support Making
A complimentary section to Chapter 17, this chapter written by Higgs & Turpin,  outlines how to best integrate evidence-based practice (EBP) into your own process, and ultimately improve your patient outcomes. This chapter offers a strong review on various types of knowledge and evidence, and how to best integrate knowledge and data from different sources, to create an EBP which takes into account clinical reasoning and judgment. It is through the combination of art (clinical practice) and science (sound evidence) that it is possible to make confident and competent clinical decisions.
The concept which stood out the most from this chapter includes: "reasoned action" – encompassing the integration of information from several sources, and putting "knowing" into "doing"; A perfect philosophy for any organization, as reflected by Physiopedia.
After reading this text, I feel more connected to my practice, by better understanding how clinical decision making has evolved.  This book will certainly find a welcomed home on my shelf, and I will make sure to use it as a valuable reference, particularly for its well examined material. As a clinician and a researcher, I appreciate the relevance of the well-researched content and the thoughtfulness that is presented on every page of this book.
As a healthcare professional, I strongly recommend this book to students, teachers and seasoned professionals who wish to nurture their understanding of decision making and learn new methods for addressing complex problems.
Take Home Messages
This is an excellent reference manual which presents up-to-date scientific literature, in a clear and easily accessible manner.
The strength of the book lies in how the authors presented a multidisciplinary approach to decision making.
Each chapter applies traditional and progressive educational theories, to the act of decision making in modern situations.
It is a strong addition to any clinical library or healthcare curriculum. It is a great reference for healthcare models, decision making tools and thought provoking clinical scenarios.
Take the time to read the case studies and vignettes – they will challenge you to think outside the box, as you are presented with unique perspective from complimentary healthcare fields.
This is an important source for professionals who want to maintain sharp decision making and clinical reasoning skills, as it is for anyone who is new to the field and wishes to develop these key competences.
You can sample the book on Google Books.