In my experience there are 2 major stumbling blocks/problems in pelvic floor rehabilitation for GSI (genuine stress incontinence) in women:
Ensuring the woman is doing a proper contraction of her pelvic floor muscles (as opposed to doing a "push down" or valsalva movement)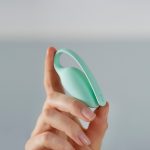 2. Keeping the individual sufficiently motivated to perform a sufficient number of contractions to have a strengthening effect – after all, let's face it, doing pelvic floor exercises is boring
When I saw the Elvie exercise tracker/biofeedback unit, which is specifically for the pelvic floor, I realised that this device is a game-changer.
So what's special about it?
Elvie is a biofeedback device which accurately measures the pressure created by the pelvic floor muscles (through force and motion sensors)
The unit is elegant & attractive, with a quality feel – it has been designed & manufactured by the same folk who make the Jawbone Up fitness trackers
Small enough to be inserted easily into the vagina
Connects via Bluetooth to the user's iPhone or Android so the mobile screen is used for the feedback
Elvie corrects the performance if the user applies the wrong sort of pressure (pushes down)
6 different exercises, all with feedback
Short achievable exercise sessions – just 5 minutes daily
4 levels of rehab: Training, Beginner, Intermediate & Advanced
Well-designed, easy to use charging system built into the storage box
This innovative product has just been awarded "Hottest Hardware Startup" at the Europas Awards this month, which are described as an…
"annual celebration of Europe's brightest and best tech companies".
There is a lot of evidence showing that biofeedback is effective in pelvic floor training, and here is a study specifically on Elvie:
Elvie is distributed by Pelvic Relief, and costs £150 – the clinical support offered by this company is very useful. It is also available to buy (at the same price) through Amazon.