Achilles tendon injuries are one of the more common injuries sustained by football players of all levels. In the professional ranks it is estimated that 2.4% of all injuries are related to the achilles tendon and tend to be associated with prolonged absence from competition which is why it's the focus of a lot of attention.
Reduced ankle dorsiflexion is thought to be a risk factor for tendionpathy because of increased strain on the soleus and gastrocnemius tendons. This has been demonstrated in gait analysis studies which show these tendons have increased peak force absorption just before toe-off in running and walking. Another study estimate that a descreases in dorsiflexion increases risk of tendinopathy by 2.5x.
Does The FIFA 11+ Reduce Tendinopathies?
Stretching and eccentric exercises have long been though to be the best way to increase dorsiflexion and therefore reduce risk of achilles tendinopathy. A new study published in BMC Musculoskeletal Disorders aimed to establish if this is true.
Methods – Participants Were Grouped Based On The Cause of Tightness
Players from two Dutch professional premier division clubs under-16, -17 and -19's were asked to participate in the study. Players were eligible for inclusion if players were between 14 and 21 years of age, male free from injury at baseline assessment and reduced ankle dorsiflexion assessed by one of the following
Decreased dorsiflexion (≤ 10 cm toe-to-wall distance)
Reduce soleus flexibility (≤ 34°)
Reduced gastrocnemius flexibility (≤ 34°)
If a player was unable to make baseline measures for the study they were excluded. Players with a decreased ankle dorsiflexion from one club were assigned to the intervention group and the other club to the control group.
The Intervention – Standard Stretching & Strengthening
Both groups took part in four two hour training sessions per week as usual with the intervention group taking part in targeted stretching and strengthening exercises after training for 12 weeks. The principle investigator delivered detailed instructions to the intervention group in the first week of the study as well as giving players an individual exercise plan to follow. One research attended training sessions to monitor compliance and also monitored for tendinopathy.
The stretching exercises are showed in the image below A1 and A2, and aimed to lengthen the soleus and gastrocnemius with specific attention to unilateral differences (if one leg was tight this was the focus of stretching). Stretches were performed with  2 x 4 reps and held for 30s with 1 min rest between with a 20% increase every four weeks. The outcome measure used was the weight bearing dorsiflexion lunge test (WBDLT.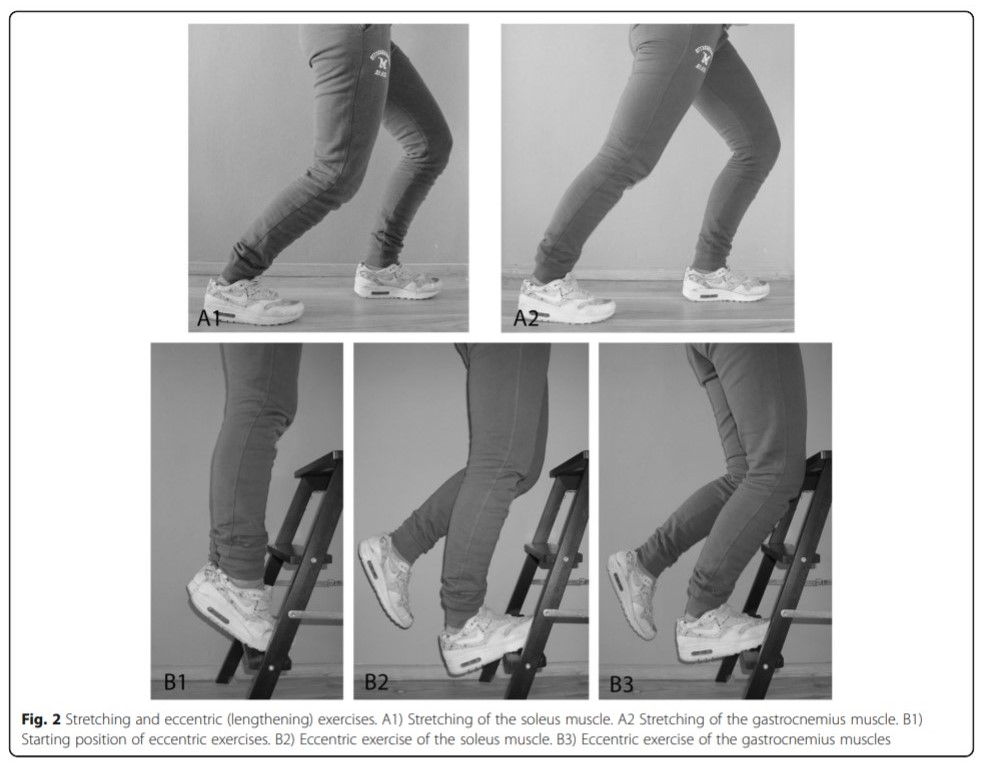 The strengthening exercises were delivered in the form of eccentric calf raises from a stretched position and can be seen in the image above (B1, 2 & 3). The regime increased over the 12 weeks of the study with four repetitions in the first week, increasing with two repetitions per week. In week five to eleven, sets were repeated three times, starting with seven repetitions, and increasing
with one repetition per week. Three sets of 15 repeats were accomplished in week 12.
Clinical Importance and Clinical Take Home
In total 107 players took part in the study with 52 in the intervention group and 55 in the control group. Looking at the WBDLT scores both the control and intervention groups improved at statistically significant levels. The intervention group improved from 7.1 (± 1.8) to 7.4 (± 2.4) cm (p = 0.381) and the control group from 6.1 (± 2.1) to 8.2 (± 2.9) cm (p < 0.001).
In terms of soleus and gastrocnemius flexibility the players in the intervention group mean soleus muscle flexibility improved from 31.0 (± 1.7) to 32.5 (± 3.3) degrees (p =0.075). The mean soleus muscle flexibility of the control
group had a statistically significant improvement from 28.3 (± 3.4) to 33.6 (± 4.7) degrees (p < 0.001). The control group reached significant improvements over the intrevention group.
For a while now it has been thought that stretching and eccentric exercises are useful tools for preventing achilles tendinopathy because they increase ankle dorsiflexion, a known risk factor for tendinoapthy. However, the results of this study show that they don't actually increase flexibility in adolescent football players compared to normal training. This study directly questions the belief and understanding.
If you want to understand how to manage sporting tendons effectively then check out this course by Ebonie Rio.