The Top Contributor for the month of March is Naomi!
Naomi has contributed to launching
of the MOOCs (Massive Open Online Courses)  as well as the new Spinal Cord Injury Programme on Physioplus. Well done Naomi! Read on to learn more about Naomi's inspiring background and experiences. 
Your name:  Naomi O'Reilly
Time active with Physiopedia:
I first started as a volunteer right before I finished my Physiotherapy Degree in 2013, so around 6 years and 8 months at this stage.
Current role with Physiopedia:
I am a Learning Architect, which is basically developing courses for Physioplus. This involves a range of different tasks including course development; including curriculum and structure, creating new pages for the course, relevant case studies and quizzes. My favourite part of being involved with Physiopedia has been my involvement in the development and coordination of MOOC's (aka Massive Open Online Courses), these have given me a great opportunity to collaborate with a range of experts in their field, and the chance to provide learning opportunities relevant to physiotherapists everywhere in the world.
Where did you go to university/college?
I came to Physiotherapy as a second career. Initially, I studied Sport Science and Administration in Nottingham Trent University, specialising in Disability Sport and went on to complete my MSc Adapted Physical Activity at Katolieke Universitite Leuven, Belgium and University of Limerick, Ireland. Following almost 15 years of working within the Disability Sport Sector, I decided to return to university to pursue my Physiotherapy Degree at the Royal College of Surgeons Ireland. I am currently studying for my MSc in Advanced Paediatrics through flexible learning at University College London, which has so far been an exciting experience.
Where do you work?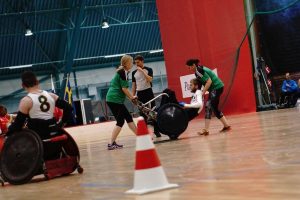 I currently work in Ireland within the HSE (Irelands National Health Service) within the Primary Care Setting. At the moment I work within a Paediatric Disability Service, but my preference is to work within either the Paediatric Primary Care Sevice or within a Paediatric Service in an Acute Hospital as it covers a broad range of ages and conditions, and makes every day different, which I love.
Describe your role:
I am still a rotational physiotherapist, which I am not a big fan of, and would love to specialise within Paediatrics, hence why I am currently completeing my MSc Advanced Pediatrics. Within my current role in the Paediatric Disability Service, I work both within an Early Intervention Team (0 – 5 years) and a Childrens Disability Team (6 – 18 years) seeing a broad range of conditions including physical, and intellectual impairments including ASD (Autism Spectrum Disorder).
What is the most rewarding part of being a physio?
Getting to work with people, and being able to help them to reach their potential, whether that be to retun to something they havent been able to do for awhile, or help them develop a new skill that they could not do before. Working in Paediatrics also provides me with the opportunity to play, to get down on the floor, spend time with kids and help them discover what they are capable of. 
What are some of the more challenging aspects about being a physio?
Navigating the system within my work, and realising that I can not always give people what they need or want, that sometimes there are constraints that impact what I can do, whether that be service limitations, financial limitations, or in some cases disease-specific limitations. Although at the same time it is often these challenges that makes physiotherapy such an interesting field to work in.
The other challenge that I have found, from even before I qualified as a physiotherapist, is the challenge to keep up-to-date. Physiotherapy is constantly changing, new evidence is constantly being developed, there can be so many opposing views that you have to consider and you have to constantly learn. This can sometimes feel a little overwhelming, trying to work out what the best options are for the people you work with, but it is also one of the reasons that physiotherapy is such an interesting career.
What are some of your professional passions?
Mostly I became a physiotherapist because I believe in the importance of physical activity and ensuring everyone has the opportunity to be physically active in some way. In paediatrics physical activity combined with play, being able to participate in play and ensuring the kids I work with have the opportunity to participate and be involved with the peers is something I feel very strongly about.
I also am a huge advocate of the role of physiotherapy in global health and development, the role we can play on a global level through improving our profession and sharing our knowledge.
What are a few of your personal passions?
I love to travel, see new places and experience new cultures. Travel is one of the only things you can buy that makes you richer, and I take every opportunity I can to explore, whether that be with my local area, nationally or internationally.
I also love to read, it's great to be able to step into a new world, experience things from a different viewpoint, see the world through other people's eyes in a book. Sometimes it's nice to just be able to step away from the here and now and get lost in a book.
Finally, I love my dogs, the best thing to come home to after a crazy day. I have 3 dogs (1 Rottweiler and 2 Miniature Schnauzers), all female, who are full of character, love and play… 
What would be your advice to a newly graduating physio?
Try not to let yourself get too overwhelmed when you first start, don't be afraid to ask for help and support, be open to different ways of thinking and just keep learning. You will never know everything, no one does and its ok to admit that. Have fun learning along the way!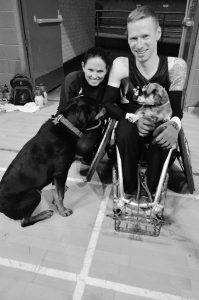 Where do you see yourself in 5 years?
Now that's a very hard question. I have tended to change direction in my career over the years frequently, mainly because there are so many areas that I have an interest in. I would like to be in a Senior position, preferably within the field of Paediatrics and would love to be involved in something research-related. I also love to teach, so who knows!
What are the best things about being a Physiopedia volunteer?
First and foremost the team! Physiopedia really is a team, more like a family really. I have had the opportunity to work with and meet some fantastic physiotherapists, and non-physiotherapists (Tony of course) and been involved in a huge range of different activities.
I have had the opportunity to develop the MOOC's with Rachael and a huge number of experts across a range of fields including Cerebral Palsy, Club Foot, Wheelchair Service Provision and others that provide a learning experience that is relevant no matter what part of the work you live in, where that is a low resource setting or technology advanced hospital.
How has being a Physiopedia volunteer helped your professional development/career progression?
I first got involved in Physiopedia before I even finished my Physiotherapy Degree, partly because of the resources that were available within Physiopedia and partly as a way that I could easily highlight my own CPD (Continuing Professional Development). It constantly makes me consider the evidence, makes me think about the options available and challenges me to look at the evidence available.
What are your hopes and aspirations for Physiopedia?
That it continues to grow and evolve, and bring on wonderful people from all around the world to make it an inclusive, amazing resource for our profession. That it continues to provide this resource to everyone and ensure access to really good quality CPD and learning for physiotherapists, who do not have the same access to learning and courses that I have in Ireland. 
What is your favourite Physioplus course?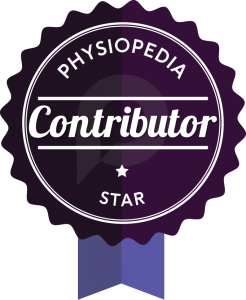 I have always loved the MOOC's, I think mainly because Physiopedia has partnered with some great organisations and experts to develop these courses, and they always ensure they cater for physiotherapists across all types of settings.
My other favourite course is the Global Health Programme, which is series of courses that explore global health and it's meaning to physiotherapy. I think this area only becomes more and more important every day, with the changing face of the world and the global environment, which impacts on our work every day.
Anything else you would like to share?
If you havent thought about volunteering before, have a think about it now. It could just be commiting to the One Page Project, and taking responsibility for one page on a topic you have a passion for. Or who knows where else it will lead! But I can tell you for sure, you will meet some wonderful, like-minded people in the process and have some fun while continuing to challenge yourself as you learn.
I'd particularly like to thanks Rachael and Tony, you have both given me hugh opportunities to develop over the years I have been involved in Physiopedia, and I have loved it!