We are delighted to announce 3 new full text books from Elsevier in our online library. The books are all from The Physiotherapists Toolkit series and have been generously offered for free access by Elsevier and the authors. You can access all these books (and more!) for free in the Physiopedia member area.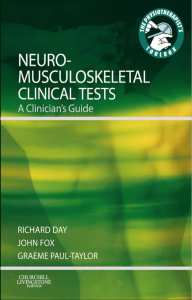 Title: Neuromusculoskeletal Clinical Tests: A Clinician's Guide
Author: Richard Day, John Fox and Graeme Paul-Taylor
Published: 2009
In brief: This book is an essential tool for physiotherapists working in the orthopaedic/musculoskeletal field. Recalling, applying and interpreting correctly the vast range of clinical tests is a difficult task for even the most experienced clinician. This exceptionally practical book provides a suitable selection of clinical tests, which can be used in either the academic or clinical setting.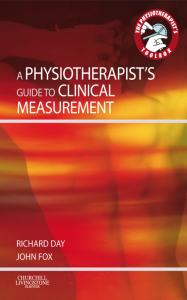 Title: A Physiotherapist's Guide to Clinical Measurement
Author: Richard Day and John Fox
Published: 2009
In brief: This exclusive handy guide gives detailed images of the various measuring methods used in practice, such as goniometric measurement of all the main joints; lower and upper limb girth measurements; manual muscle testing of all major muscle groups; spinal measurements; spirometry (respiratory function); and many more! Each illustration is accompanied by concise but clear instructional text. measuring tool.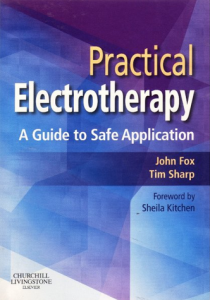 Title: Practical Electrotherapy: A Guide to Safe Application
Author: John Fox and Tim Sharp
Published: 2007
In brief: Practical Electrotherapy is the first and only book of its kind which describes how to apply common electrotherapy modalities to a patient in the clinical setting. The reader is guided through the process from start to finish, covering all safety issues, contraindications and precautions. Designed with the user in mind, this manual is an invaluable practical resource that saves readers time and effort.