This month we are celebrating the achievements of a translation powerhouse, Annemarie Frank. Annemarie is part of the Translation Team with Plus and works on translating content into German.  Along with her translation tasks, Annmarie also plays an important role in the course quality control process by checking that Plus quizzes and course pages are always evidence-based and up-to-date. She is an exceptional worker, and dedicated to always improving Physiopedia by providing comprehensive feedback, thanks to her extensive knowledge.  Annemarie has translated 229 courses into German so far, which translates into (pun intended) 1815 learning activities completed on Plus by German speakers. Your work is helping make rehabilitation knowledge accessible to more knowledge-users around the world; thank you for all you do.  Congrats Annemarie!
Your name:  Annemarie Frank
Time active with Physiopedia:  One year and three months.
Current role with Physiopedia: German translator with the Plus Translation Team.
Where did you go to university/college?  Physiotherapy degree from Berufsfachschule Ingolstadt, Germany in 2001.
Where do you work?  I live and work (online) in Canoas, Brazil. I have a practice in Porto Alegre and my areas of interest are general musculoskeletal physiotherapy and musician's health.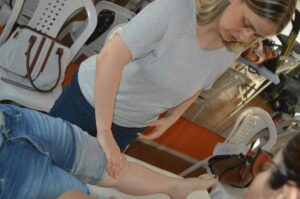 Describe your role:  I'm a clinical physiotherapist working predominantly with conservative orthopaedic patients (overuse, chronic/persistent pain), considering myself as a "Musculoskeletal Physiotherapy GP". My special area of interest is musician's health, in which I have already done research, worked in organising events and congresses and gained years of experience. Additionally, I have an interest in connective tissue and developed a lengthy course about fascia, basics of connective tissue, evidence and implications for manual therapy. This information is now is being turned into an online course.
What is the most rewarding part of being a physiotherapist?  Among the most rewarding aspects of working with Physiopedia, there's certainly the fact that you can learn while you work, which means there is continuous learning and professional growth. Also, being able to work with this incredible, international team is extremely exciting! Knowing that we are making a positive impact on colleagues worldwide certainly plays an enormous role. As a clinician, problem solving and critical thinking are always a key component of what makes this activity so enriching for me personally.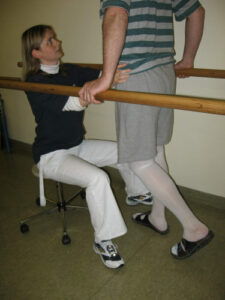 What are some of the more challenging aspects about being a physiotherapist?  In my personal opinion, the most challenging aspects as a clinical physiotherapist lies in the complex cases that require more than a standard protocol and reasoning. Developing an effective solution for patients with chronic conditions can be difficult, and their numbers are growing, in midst of a context and lifestyle that works against many of our pillars in managing those conditions (stress, urban environments, sedentarism, worse nutrition and sleep). As a translator, the most challenging aspect by far is to accurately convey the meaning and nuances of the original text into the target language.
What are some of your professional passions?  A major passion always has been the curiosity about science and how to translate science into interventions and education for the patients. Other than that, working with musicians (and growing up in a family of them) always reminds me that there's more than only objective data to a case. Subjectivity and art are part of everything we do in physiotherapy practice, and a genuinely evidence-based practice means knowing how to mix the two together.
What are a few of your personal passions? Having a bit of nature around the house, a passion always has been discovering what it has to offer and preserving what is there, as well as advocating for the environment. Lately, I also discovered my passion for antiques and searching for small, beautiful things with a story. Music is part of a passion since my childhood years, I play piano and recorder (I was active in a small orchestra while in Germany) and classical music, especially Bach and Mendelssohn, always has an uplifting effect on me!
What would be your advice to a newly graduating physiotherapist?  Focus on mastering the basics – you cannot build a skyscraper from the top. Know how to communicate, listen to your instincts and be empathetic – firstly, you're a human. Then, you're a physiotherapist. Networking and collaboration – no one works alone. Know-how and to whom to REFER! Take care of yourself – don't hurt yourself, and don't hurt your patients. Primum non nocere (Latin phrase that means "first, do no harm").
Learn about bias and critical thinking – for you to be able to treat a person, you have to know how a human brain works, including yours!
Be ethical – morals are about the choice of "doing good" versus "doing harm". This should guide you 24/7.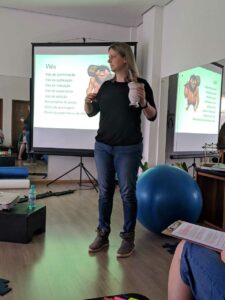 Where do you see yourself in 5 years?  I have no idea! Being open to new experiences and being able to change paths has always been part of my life and will continue to be!
What are the best things about being a Physiopedia volunteer? I was thrilled when I became a part of this team! It's absolutely amazing to work with people from so many parts of the world who are committed to the same goals! Also, Physiopedia was part of my life already – I was always checking for information and gathering knowledge on the platform. To be part of an initiative that I really admired and trusted (!!) is extremely rewarding!
How has being a Physiopedia volunteer helped your professional development/career progression? Contributing to Physiopedia requires learning, research and reasoning. This knowledge expansion certainly enhances my expertise and competence. Also, the sense of contributing to a broadening physiotherapy community's knowledge base is personally fulfilling. The work certainly contributes to expanding my portfolio and, last but not least, it sharpens my English and German in a meaningful way!
What are your hopes and aspirations for Physiopedia? For Physiopedia, I hope that it will continue to grow and that its presence will become an integral part of the education and training of physiotherapists from an increasing number of countries. The collaborative format of Physiopedia has been visionary since its inception, ensuring that the quality of information is always above the average of what is otherwise available on the internet.
What is your favourite Plus course?  There are many! But the patellofemoral courses with Claire "Patella" Robertson, the sports courses with Ian Horsley and now the Wound Care Programme definitely belong in the top league for me.  Even though it was not at all predictable, because I am not a paediatrics fan – I would book another course with Pam Versfeld in a heartbeat! Her authenticity, passion and humanity definitely took away the "paed trauma" for me. Lastly: Shrey Vazir and his mindfulness courses are worth their weight in gold!
Anything else you would like to share?  Working as a translator with the Physiopedia Team has been an enriching reward and fulfilling task. I am truly honoured to contribute, and I hope my work has been meeting the expectations of those colleagues on the other side.