Today marks a special occasion for the global rehabilitation community, it's World PT Day. Every year on the 8 September, we come together to celebrate the role that physiotherapy plays in improving the health and wellbeing of populations across the world.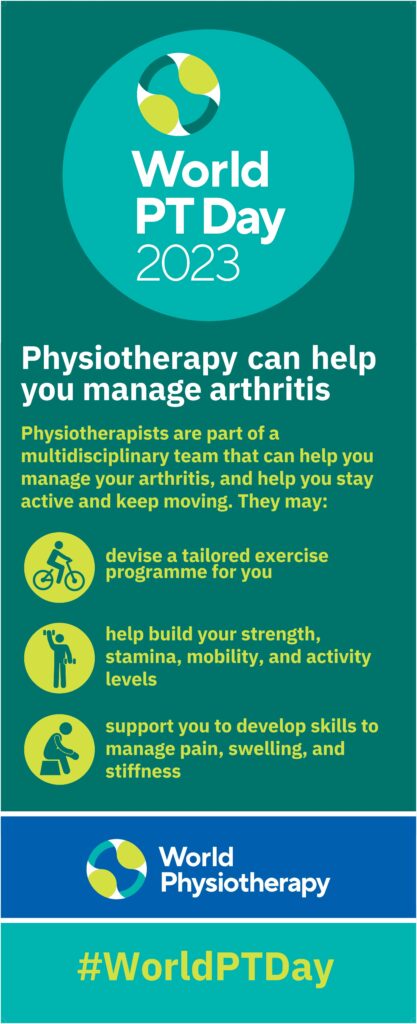 For 2023 the day will focus on arthritis, with an in-depth look at some forms of inflammatory arthritis, including rheumatoid arthritis and ankylosing spondylitis (axial spondyloarthritis). Physiotherapy is not just about recovery and injury prevention. It is about enhancing functional ability and enabling people to live full and active lives, no matter their age or condition. Physiotherapists work with people of all ages, treating a range of symptoms and conditions and addressing diverse health challenges. Around the world physiotherapists are instrumental in community development. They work in hospitals, private practices, and even disaster relief camps, delivering much needed interventions that improve quality of life. Physiotherapists are ideally skilled to help people all over the world manage their arthritis.
Whether it is supporting people with managing pain in fibromyalgia, improving mobility in ankylosing spondylitis or providing relief from gout, physiotherapists work to provide individualised treatment plans to help everyone set goals and achieve wellbeing and independence.
At Physiopedia, our commitment to education mirrors the ethos of World PT Day. Our global team of dedicated volunteers work collaboratively to ensure that we provide evidence-based, reliable knowledge to our global community. Physiotherapy is continually evolving, with new research and methodologies enriching the field. Physiopedia stays up-to-date with these developments, providing comprehensive resources for the community. In a world overflowing with information, the quality of that information matters. That is why, on World PT Day, we highlight the importance of trusted sources.
So if you are looking to understand more about juvenile idiopathic arthritis or rheumatoid arthritis, if you're interested in polymyalgia rheumatica, spondyloarthropathies, reactive arthritis or dermatomyositis then we have you covered! Search Physiopedia for evidence-based, peer-reviewed information you can trust – and it's free to learn from, wherever you are in the world! Don't miss also the information sheets about arthritis in several different languages available for free download directly from World Physiotherapy to celebrate World PT Day. And if you would like to learn more and expand your knowledge, why not take this online course on Spondyloarthropathy from  Physiopedia Plus?
As we celebrate World PT Day, let us take a moment to appreciate the physiotherapists and healthcare providers who are making a tangible difference in our communities. And let's not forget the role each of us plays in promoting health through education and awareness. Here's to the physiotherapists of the world, and to the incredible work they do. Happy World PT Day!