Every 2 years, World Physiotherapy offers an opportunity to connect in person with colleagues from around the world. This year the Congress is taking place in Dubai between 2 and 4 June. The Physiopedia Team will be there to share the work that we have been doing and to connect with our community. 
World Physiotherapy Congress brings together physiotherapists from around the globe to exchange knowledge, share experiences and to collaborate on advancing the practices of rehabilitation medicine. It presents a unique opportunity to learn from experts in the field, connect with colleagues from around the world, and stay up-to-date with the latest advances and trends.
The Congress features keynote presentations, symposia, workshops, and posters  covering a wide range of topics related to physiotherapy, including clinical practice, education, research, and policy. Attendees can also participate in networking and social events, as well as visit exhibits showcasing the latest products, services and technologies in the rehabilitation fields.
The Physiopedia Team will be presenting work related to online education and professional development as well as the work we have been doing with ReLAB-HS to integrate rehabilitation into health systems. Presentations include a focused symposium on "Leveraging Collaborative Inter-Professional Education Strategies For Context Specific Workforce Development", two podium presentations on "Virtual Non-Patient Facing Student Placements" and "Understanding Rehabilitation Needs of Displaced Persons" as well as participation in a panel discussion and seven poster presentations. Physiopedia has a stand in the exhibition hall where you can come and learn more about what we are doing, meet the team in-person, or just stop by for a chat.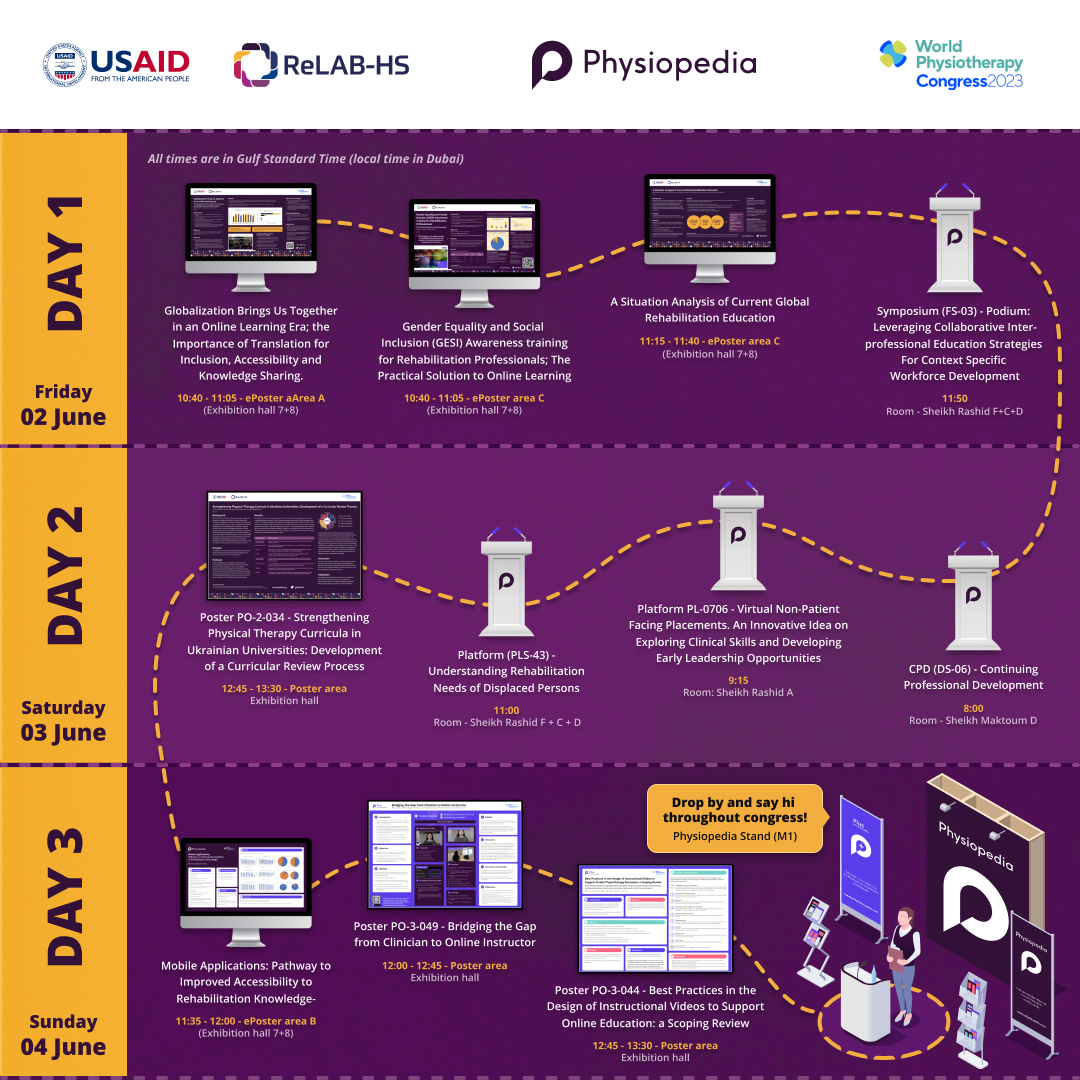 If you would like to see the full scope of Physiopedia's activities at Congress, see our activity map, which outlines the topic, time and location of our presentations. It will also let you know where you can stop by for an in-person catch-up. See you there! 
ReLAB-HS is made possible by the generous support of the American people through the United States Agency for International Development (USAID) and is implemented under cooperative agreement number 7200AA20CA00033. The consortium is managed by prime recipient, Johns Hopkins Bloomberg School of Public Health.