Physiopedia Plus is now hosting regular live webinars with our team of instructors on a wide variety of rehabilitation topics. You can check out our upcoming webinars here, and make sure you keep checking back in as we are adding new dates and topics all the time.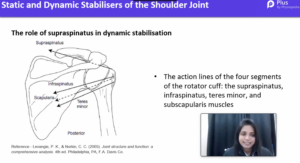 Srishti Banerjee's webinar on Shoulder Dysfunction Following Stroke
"As someone with an MSK background about to begin further study in neurology, this webinar was vital/helpful in my understanding of certain conditions I may deal with in my career" – Conor Hurley (Chartered Society of Physiotherapy)
Top ten reasons to jump on our next live webinar:
Convenient and flexible learning: Attend from anywhere all you need is an internet connect.
Interactive experience: Engage with the subject matter experts and other attendees through live question and answer (Q&A) sessions, live chat box and polls, then follow up with instructors in the Plus forum.
Affordable: More accessible to our global rehabilitation community than in-person events. If you currently have a free Plus membership and you sign up for a webinar, you will have access to all of our courses and resources for a month. Plus webinars are free for Full and Pro members always.
Exposure to subject matter experts: Learn from our instructors and benefit from their clinical experiences. Case studies, clinical videos and practical clinical advice are often features of our webinars.
Networking opportunities: Connect with other rehabilitation professionals – you will often find occupational therapists, physiotherapists/physical therapists, students, doctors and rehabilitation nurses on our webinars. Plus webinars are open to any rehabilitation professional who is open to learning.
Earning continuing education (CE) or professional development (CPD) points: Earn a webinar certificate and Plus points (1 Plus point is equivalent to 1 hour of learning) to evidence your learning and help you to stay current in your field.
Access to resources: Download slides, handouts and clinical resources.
Evidence-based information: Be confident in your learning with up-to-date scientific literature – Plus instructors are required to include a minimum of five recent studies, with a focus on current and relevant information on clinical trends and best practices.
Efficient use of time: Spend 60–90 minutes, including an interactive Q&A, to learn and stay current without taking up the additional time needed to attend an in-person event.
Opportunity to ask questions: Learn from the experience of leading experts in their field. Our instructors are enthusiastic about interacting with colleagues and answering your questions. All our webinars include a Q&A period, which provides an opportunity to ask the instructors questions and clarify any doubts or confusion in real time. This is an excellent opportunity to learn from the experience of leading experts from around the world in their fields.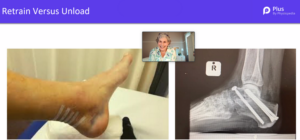 Helene Simpson's webinar on Reflections on the Journey to Recovery after Major Ankle Surgery
"We are often taught the theory of conditions, but it is very insightful to learn what the patients' experiences of their injuries and rehab were. Helene presented very well and I will carry over more information to my patients" – Riana Jackson (Health Professions Council of South Africa)
Webinars play a meaningful role in providing education and professional development opportunities to a wide range of rehabilitation professionals, regardless of location or time constraints. The Plus team is thrilled to be providing another online medium to facilitate your learning. Participate in our passion and jump on our next live webinar.