For the first time a resolution on rehabilitation will be tabled for adoption at the World Health Assembly, thanks to the decision made by the Executive Board of the World Health Organisation (WHO).
Physiopedia (as part of the ReLAB-HS consortium) was proud to participate in the presentation of a statement on strengthening rehabilitation in health systems at the World Health Organisation (WHO) 152nd Executive Board Meeting.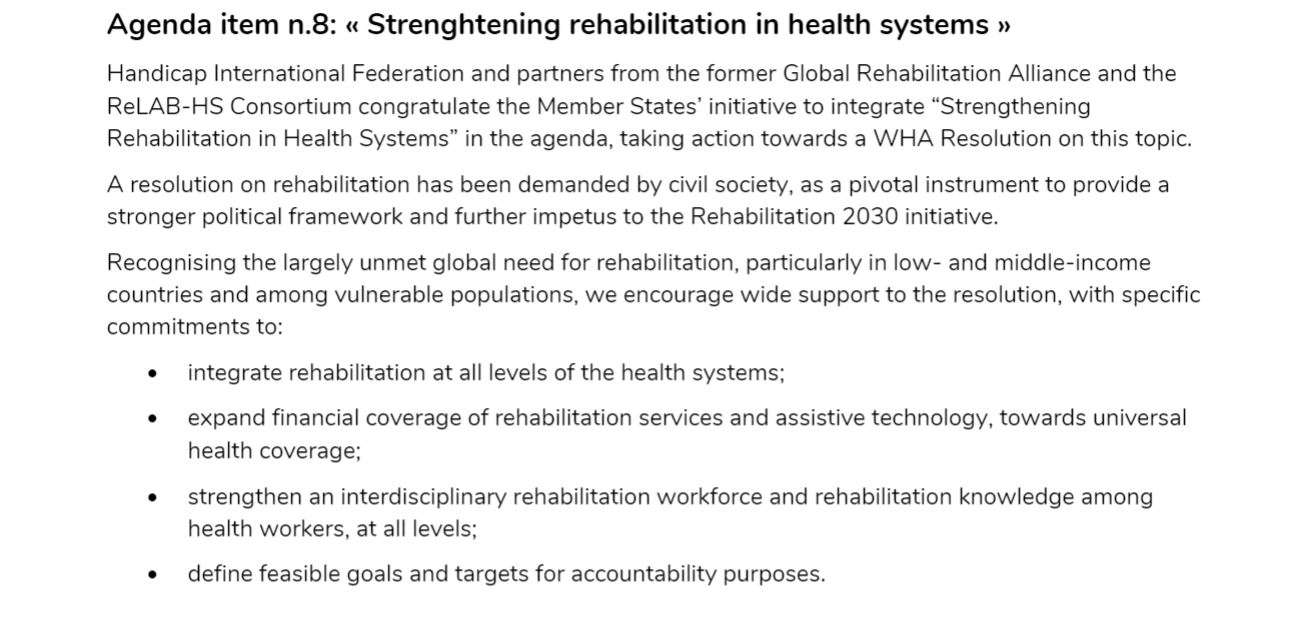 Having considered the report on strengthening rehabilitation in health systems, WHO decided to recommend to the Seventy-sixth World Health Assembly the adoption of the resolution. The resolution outlines the contribution of rehabilitation to human rights and universal health coverage, the profound and largely unmet global need for rehabilitation and the need to prioritise rehabilitation in health priority setting and resource allocation. It urges Member States to raise awareness and build national commitment for rehabilitation, integrate rehabilitation services into health systems, and strengthen data collection, financing mechanisms, workforce development and research.
The report invites international organisations and other relevant stakeholders to:
support Member States in their national efforts to implement the actions described in the Rehabilitation 2030: A Call for Action
strengthen advocacy for rehabilitation
support and contribute to the World Rehabilitation Alliance (WRA)
harness and invest in research and innovation in relation to rehabilitation including the development of new technologies
support Member States in collecting health policy and system research to ensure future evidence-based rehabilitation policy and practice
As the worlds largest rehabilitation focused website and one of the worlds top 30 health and medicine websites, Physiopedia is in a unique position to advocate for rehabilitation and support all of the actions listed in the WHO resolution. However it is through partnership and collaboration that the efforts of all rehabilitation stakeholders will be maximised. Physiopedia is fortunate to be a member of both the World Rehabilitation Alliance (WRA) and the USAID funded ReLAB-HS consortium. Through these relationships and its existing platforms and user community, Physiopedia will continue to develop strategies and build tools to support the development of rehabilitation within all WHO Member State's health systems.