Here at Plus we are passionate about rehabilitation and creating content and courses relevant to all rehabilitation areas. From understanding the rehabilitation needs of displaced persons to the rehabilitation needs of athletes of all levels.
Right before the start of the FIFA World Cup 2022, we published our final courses of the Applied Sports Physiotherapy Programme. This 16-course programme is our longest one yet, but we had so much fun creating this!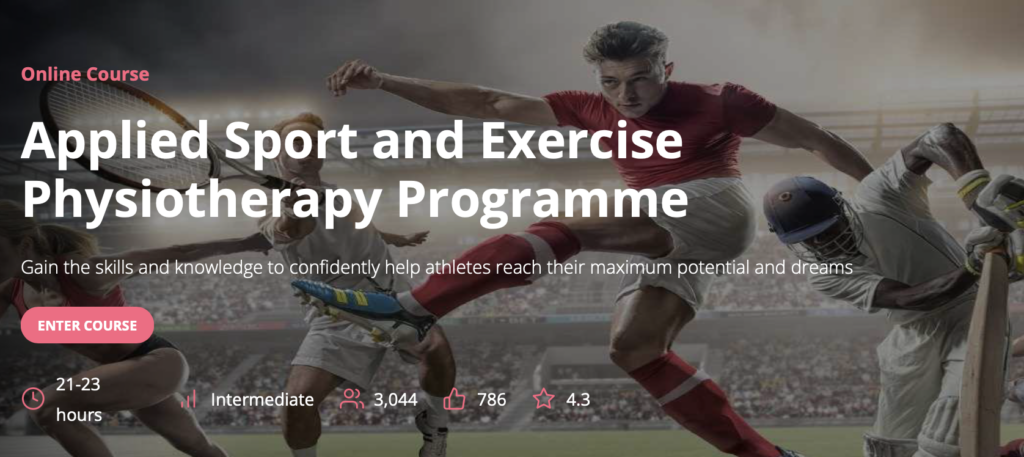 We had the privilege to work alongside some great instructors with years of experience between them. Dr Lee Herrington, Dr Ian Horsley and Ian Gatt from the prestigious English Institute of Sport have all been to various Commonwealth and Olympic games as members of the Great Britain medical team. These gentlemen understand sports, athletes and the intricacies involved with tissue healing, injury prevention, rehabilitation and return to sport. Furthermore, they are all experienced clinicians and researchers, bringing the best of the clinical and academic worlds together in their courses.
Merike Hopkins is another Commonwealth and Olympic physiotherapist and an athlete in her own right. She has been involved as team physiotherapist for various sports teams and brings a refreshing insight and a much-needed individualised approach to the complicated topic of overuse injuries in sports.
Ethical issues arise in the world of sports and the sports clinician is often confronted with these issues. In Bridey-Lee Momberg's course, you can explore some of the ethical issues clinicians face and learn more about ethical standards and approaches to those not-so-simple and clear-cut situations with athletes.
Creating a sports physiotherapy programme would only be complete with a course on sports and exercise physiology. Professor Mike Lambert is an experienced and renowned exercise scientist and researcher with loads of experience in injury surveillance, and fitness and fatigue monitoring to improve performance and reduce the risk of injury. In his course on the principles of exercise physiology and adaptation, he provides the necessary physiological principles that underly adaptations to exercise. Something that all sports clinicians need to know to help athletes improve their performance or rehabilitate after an injury.
Being mindful of treating the whole person, it was crucial to have Dr Carl Bescoby's input and insight into the mental health of athletes. He provides clinicians with valuable tools to support the mental health and well-being of athletes as well as ways to develop resilience in athletes and teams.
This sports programme provides something for sports clinicians of all levels, whether you are still new in the world of sports physiotherapy or an experienced clinician. We tried our best to provide you with the latest evidence-based practices, while also providing valuable insights from experienced and contemporary clinicians. With this programme, you will gain skills and knowledge to help the athletes that you are working with confidently!
The full programme is available to Full or Pro Plus members only…but – you can sample one of the courses on a free trial membership. Sign up for a trial membership today to check out Ian Horsley's Injury and Healing in Sports Physiotherapy course. And if you like it, there's still 2 weeks left to take advantage of the new year joining offer with 30% off annual Plus membership.