Have you taken a moment to reflect on 2022? Join me on this journey as I look back at the last year at Physiopedia Plus (Plus). As you read, consider your learning and what you have been part of this past year. 
You might have noticed that we changed our name from Physioplus to Physiopedia Plus. You can simply call us Plus. Why the change? Plus is an extension to Physiopedia that includes all rehabilitation professionals and anyone interested in exploring rehabilitation knowledge. As a Plus member, you are part of a global community of like-minded professionals learning together. The name change reflects that.  
Your community is continually growing. At the end of 2022, Plus had 155,630 members worldwide. Because of your continued commitment, Plus donated 12,249 accounts to people in low-resource countries to enable equitable access to education and professional development.  
Did you see that we now have more than 560 courses on Plus? 212 new courses were published in the last year. We don't only publish new courses but also review and update old courses. In 2022 we completely redid four popular older programmes/courses that you might be interested in. 
Through our work with ReLAB-HS, 79 rehabilitation-specific courses are now available on Plus. These courses are created for all rehabilitation professionals and cover the following topics; an overview of rehabilitation, family-centred development training, childhood development, pain in children, assistive technology, ICF, burns, rehabilitation considerations for displaced persons, rehabilitation in disasters and conflict, gait, spinal cord injury, implementation science and orthotics.
It fascinates me to know what courses other people are doing. At the start of 2022, Plus launched a new trending feature available as a filter when you search for courses on the site. Here are the top three courses that each trended consecutively for more than a month in 2022: 
Thank you for writing course feedback and testimonials. The Plus team reviews all feedback monthly and updates courses accordingly. This past year 667 testimonials were uploaded to Plus. You can view what others are writing about Plus courses on the testimonials page.  
I can't reflect without mentioning some of the bespoke features and resources that were added to Plus in 2022 that you should consider for your learning in 2023: 
I hope you are as excited as I am about what this year can bring. At Plus, we are ready to bring you more exceptional courses, interdisciplinary instructors, live webinars with interactive components and mentorship opportunities in this year. Thank you for being part of this amazing team!
#justkeeplearning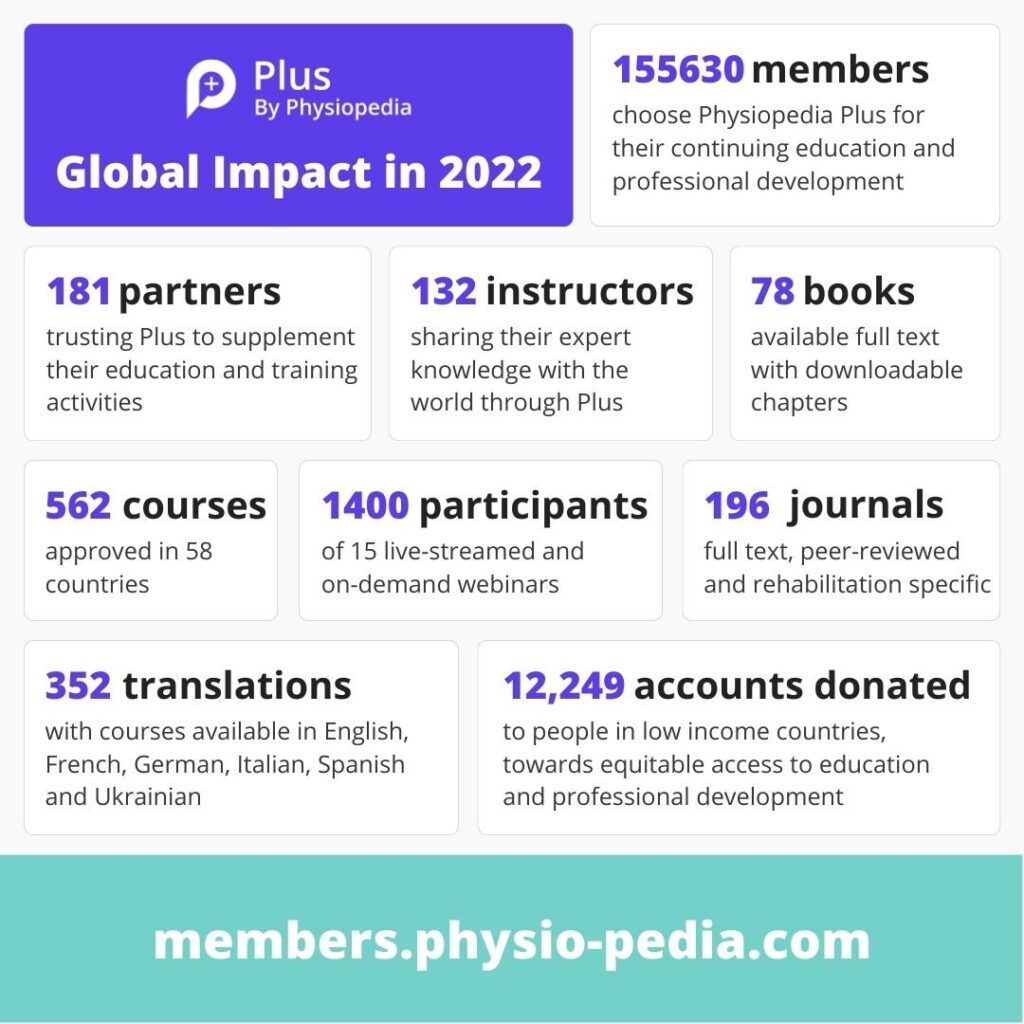 – Don't miss the Year in Review from Physiopedia Content Manager Kim Jackson and find out how many countries visited Physiopedia last year