We are over the moon to release the new Physiopedia Plus app! Plus members can now complete courses offline through the app – available for both Apple and Android download.
Although the world of education has rapidly been moving online, there are still barriers to accessing online education – particularly for learners in low income countries. Whether it's unstable or intermittent internet connection, limited access to a computer or no regular electricity supply – online education is still out of reach if you don't have the technology requirements to support it.
Having mobile offline access resolves some of these challenges. This isn't just vital for learners in low income countries though. Many clinics and hospital environments in high and middle income countries do not have high speed internet access for staff – leaving clinicians to rely on mobile data, or without mobile reception in their clinical areas.
Thanks to the support of USAID through ReLAB-HS, we have been able to develop an app for Plus to facilitate offline learning – now Plus members can do their professional development courses with or without internet access.
What does this mean?
The ability to download courses when you are online, to complete offline. So learning can continue without internet access and avoiding data charges. We hope this makes learning with Plus even more convenient and helps you to make the most of the time you have and learn on your terms.
What can you do on the app?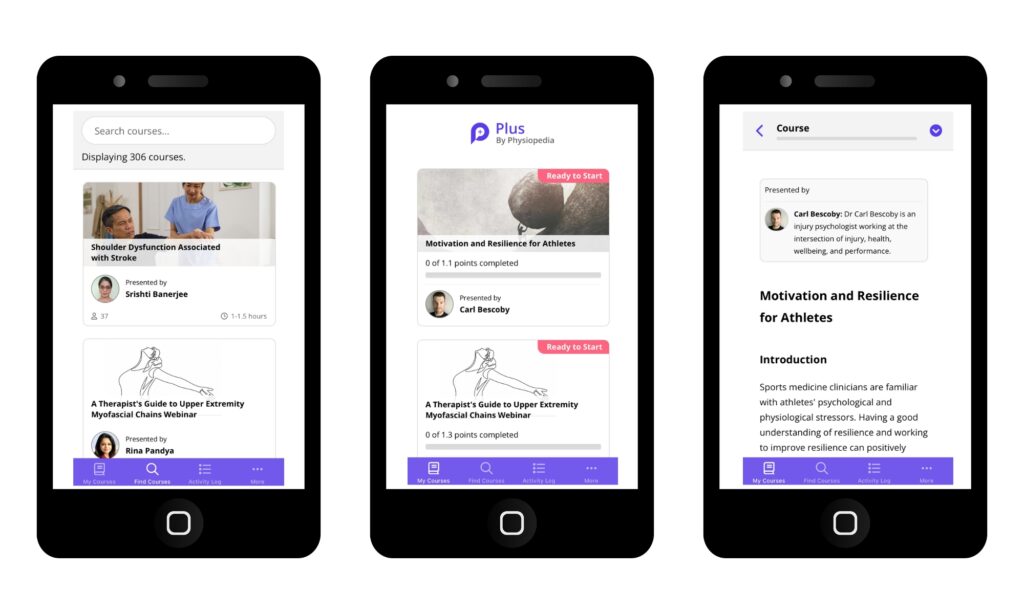 Members can view Plus courses through 'Find Courses' and choose which ones to download – these will then be available to complete offline in 'My Courses'. All the elements of the courses are mobile optimised, including videos and quizzes, so they look great on a small screen. If you are online or wish to free up space on your phone you can turn off video downloads (in 'More') and stream the videos instead. You can also delete courses from your phone once you have completed them (via the dropdown menu at the top of each course). There is a choice of dark and light modes depending on when and where you are learning – you can adjust this in 'More'.
Just like on the desktop version of Plus, all course activities will automatically appear in your 'Activity Log' so that your learning is recorded in your Plus online professional development portfolio.
How to get started
The Plus app can be used on phones and tablets, and is available through Google Play and the Apple app Store.  Anyone can download the app. You need to have Full or Pro Plus membership to access the courses.
This is a new tool and we are always looking to keep improving and developing the app, so if you have any suggestions or feedback please do contact us.
ReLAB-HS is made possible by the generous support of the American people through the United States Agency for International Development (USAID) and is implemented under cooperative agreement number 7200AA20CA00033. The consortium is managed by prime recipient, Johns Hopkins Bloomberg School of Public Health.