Thursday 8 September is a significant day in the calendar of physiotherapists. It is the day that World Physiotherapy was founded back in 1951 and continues to be observed to highlight the valuable contributions of physiotherapists.
This year the theme for World PT Day is Osteoarthritis (OA) – a common debilitating joint disease that affects 520 million people around the world, with an increasing trend in the prevalence. 
520 million people around the world have osteoarthritis. It can affect any moveable joint, most commonly the knees, hips and hands.
Osteoarthritis is associated with joint pain, stiffness, and inflammation. The exact cause is unknown, however, factors such as being overweight or a previous joint injury can increase the risk of developing osteoarthritis.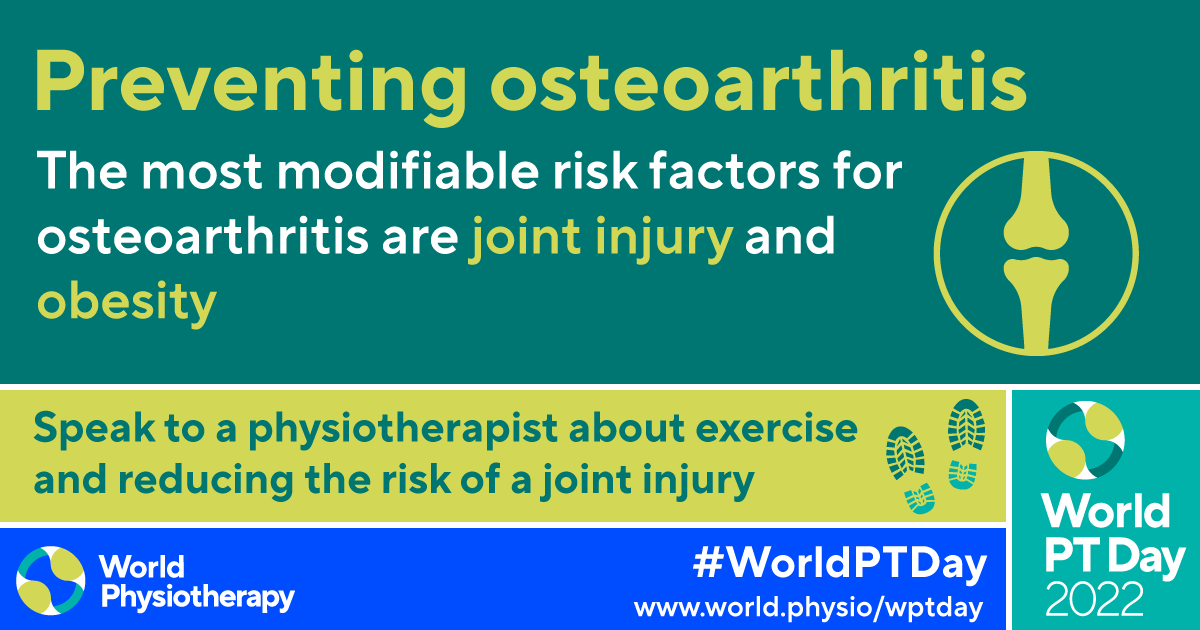 In some people there are no symptoms, but in others the symptoms of osteoarthritis can lead to functional limitations. This is particularly significant in low and middle income countries (LMICs) where there are additional barriers in the resilience of health systems and their ability to adapt to growing rehabilitation needs. However, common misconceptions impact people living with osteoarthritis globally – and rehabilitation professionals need to communicate evidence-based messages that help people to live life to their maximum potential wherever they are in the world.
How can Physiotherapy help with Osteoarthritis?
Physiotherapy is a rehabilitation profession that helps people with a range of conditions, including osteoarthritis, to maximise their physical potential – often through exercise and physical activity.
Exercise and physical activity are safe and evidence-based first line management strategies for osteoarthritis
Exercise and physical activity are safe and effective for people with osteoarthritis and play a key role in improving and maintaining movement and function. Exercise can even reduce pain and in some cases delay or prevent a joint replacement.
Physiotherapists play a vital role in reducing the burden of this disease by not only helping people manage osteoarthritis but also in educating on the benefits of exercise and pain relief. 
World Physiotherapy have developed a great leaflet to help bust some of the myths around osteoarthritis – relevant to anyone who has, or works with people with, osteoarthritis. Why not check your knowledge on World PT Day?
Osteoarthritis: Fact or Myth? – How many do you know?

Other Things You Can Do On World PT Day
World PT Day is not just for Physiotherapists! Anyone can get involved to help to learn about Physiotherapy and spread the facts about osteoarthritis, here are some ideas to celebrate with Physiotherapists all over the world: