An effective community multiplies the power of individuals. Shared knowledge and collective wisdom broadens the available information. Achieving goals and objectives is easier when motivated by the support of a tribe.  
Many organisations around the world recommend Physiopedia as an essential resource to supplement education and professional development. However, Physiopedia is much more than just a knowledge-sharing platform, it believes in building communities. Communities where rehabilitation professionals, wherever they may be, can support each other, their clients and healthcare systems.
One community that Physiopedia is passionate about is their very own volunteer team, the power of which has created confident, digitally competent, globally aware, team players and leaders.
"During the internship, I remember our supervisors advised us to use Physiopedia as a free, informative, and trusted source for whatever we search for"
Khloud, a physiotherapist from Egypt, learned about Physiopedia during her internship when one of her supervisors recommended it as a great source of information. However, it was not until the beginning of 2020 that Khloud discovered there was more to Physiopedia than the well-known knowledge-sharing platform.
Why volunteer with Physiopedia?
At the beginning of 2020, Khloud found herself "feeling depressed and disappointed with the physiotherapy profession". She turned to the internet for answers and inspiration and came across a question from a colleague on social media asking "to what extent can I trust the information on Physiopedia?". Further exploration of the conversation gave Khloud a new direction.
A tutorial video aimed at facilitating community editing of the Physiopedia content led to Khloud joining the volunteer team. Khloud's Physiopedia journey started just as the COVID-19 pandemic rocked the world. It was during these months of pandemic lockdowns that Khloud found a renewed passion for the physiotherapy profession.  
"It was an amazing feeling to know where to find the information I needed and to know that I had actually created the page. My first few months with Physiopedia were so rewarding."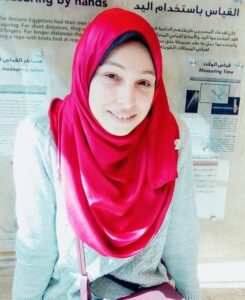 As part of the volunteer content team, Khloud did lots of reading, researching and creating new pages. Her special interest is women's health, but she found herself creating and reviewing content on many different subjects including respiratory conditions and interventions. On return to work, Khloud had a patient requiring breathing exercises, her recently created new page on Breath Stacking was the perfect resource. 
"I feel more positive about my future and not only have my clinical skills improved but also my editing and writing skills. I am grateful to Physiopedia and Physiopedia Plus as I am now motivated to explore my areas of interest in more depth. I feel prepared to specialise in women's health and orthopaedics. I am excited to learn more and keep growing."
Joining the Physiopedia community was a career defining moment for Khloud. As Emily Kimbrough said "Remember, we all stumble, every one of us. That's why it's a comfort to go hand in hand."