With the support of USAID and the Leahy War Victims fund through ReLAB-HS, Physiopedia has been able to make a significant impact to knowledge sharing and workforce development for rehabilitation professionals in Ukraine during the current conflict.
In times of conflict rehabilitation priorities change and health professionals need to adapt to this new context that they find themselves working in.  Often new clinical needs face inadequate local experience and so alternative methods of sharing knowledge from international specialists become key to advancing rehabilitation practice.
Ukrainian rehabilitation professionals have highlighted a need for training in the management of specific conditions related to conflict such as traumatic brain Injury, spinal cord injuries, and amputees. Physiopedia has responded to this need by creating a series of online courses specifically related to rehabilitation in conflict situations and has also supported free access to all the online courses on the Physioplus elearning platform.

Since the start of the conflict many individuals have created Physioplus accounts and 10 rehabilitation organisations have adopted the platform for delivering training. 195 people from Ukraine have participated in a total of 738 courses (207 different courses). The professional demographic of course participants is 86% physical therapist, 10% rehabilitation doctor and 4% occupational therapist. Out of 481 courses available on the site, the specifically created disaster and conflict courses have attracted the most participation with 43% of course engagement. Initial analysis of the data demonstrates an enthusiasm for knowledge acquisition with participation valued despite the challenging context.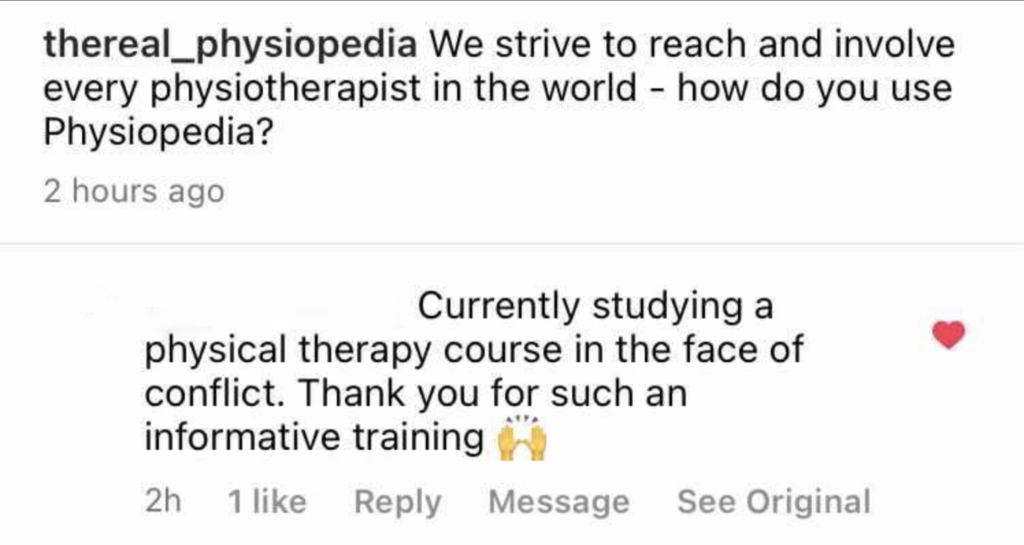 Further courses are being developed to specifically respond to the specific needs being identified in Ukraine, including this years Physiopedia MOOC to share knowledge around working with displaced people. In addition to this, Physioplus content is currently being translated into Ukrainian, it is planned to launch the Ukrainian version of the platform with at least 10 translated courses in the next few weeks.
ReLAB-HS is made possible by the generous support of the American people through the United States Agency for International Development (USAID) and is implemented under cooperative agreement number 7200AA20CA00033. The consortium is managed by prime recipient, Johns Hopkins Bloomberg School of Public Health.