Today is World Clubfoot Day. June 3rd has been chosen to raise awareness of clubfoot as the date has a special significance – it is the birth date of Ignacio Ponseti, the pioneer of the Ponseti technique for clubfoot.
What is Clubfoot?
Clubfoot, also known as Congenital Talipes Equinovarus, is a complex congenital foot deformity that can limit a person's mobility as it can make walking difficult and painful. The deformity affects the structure and position of the foot, causing the foot to turn inwards and downwards.
Tali" from the Latin Talus means Ankle
"Pes" means Foot
"Equinus" means foot pointing down (like a horse's foot)
"Varus" means deviated towards the midline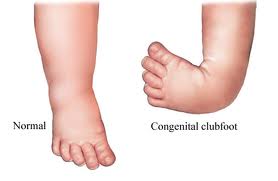 The affected foot is shorter and has a smaller calf circumference than an unaffected foot. The clubfoot deformity feels rigid and cannot be corrected without intervention.
Clubfoot can affect one or both feet, with 50% of cases being bilateral. Males are more likely to be affected than females. It is one of the most common serious congenital foot abnormalities. It is usually an isolated abnormality, but it can be associated with other congenital malformations or syndromes.
The Management of Clubfoot
Clubfoot treatment has evolved over time and can be divided into two categories: conservative and surgical approaches. Whatever approach is used, the goal of treating clubfoot remains the same: to provide long-term correction of the deformity, resulting in a fully functional, pain-free foot.
"Your child is perfect, we only have to straighten her little feet" –  Dr Ignacio Ponseti
One of the most popular conservative methods is known as the Ponseti Method. It was developed by Dr Ignacio Ponseti (who was born on 3rd June 1914) and has revolutionised the management of Clubfoot.
The treatment involves using a cast to reposition the foot, which is then recast regularly over several months. Children who are treated with this method are almost guaranteed a positive outcome and after a complete course of treatment can lead a full and active life.
How Can Physiotherapy Help?
Successful management of clubfoot requires a multi-disciplinary approach. It is generally considered to be best practice for children with clubfoot to be treated by a specialist team, with specific training and in a dedicated clubfoot clinic.
"Taking the stigma out of childhood memories one cast at a time" – Miracle Feet
Physiotherapists play a vital role in the education and management of Clubfoot. Along with other healthcare professionals, physiotherapists provide treatment and support to children and their families.
Some patients will require a physiotherapy programme of manipulation, muscle strengthening or stretching. For patients that need surgery physiotherapists can help during the rehabilitation phase.
What Can You Do?
Around the world individuals, organisations, hospitals and specialist centres will hold events that not only raise awareness of clubfoot but also help people to connect and support each other!
"Probably a few weeks after I was born I started having casts put on my legs to straighten them out. After that corrective shoes and a brace in between. Skating wasn't assigned to me, but when I wanted to skate, the doctors said it might help with the strength and coordination [after clubfeet treatment], and it's a very good athletic activity" –  Kristi Yamaguchi, Olympic Gold Medal winner
You can join in by learning more from the Physiopedia page about Clubfoot. As well as rehabilitation advice you can learn more about risk factors, signs and symptoms, complications, what the numbers mean, how it is diagnosed and how it is managed.
Learn how to manage children with Clubfoot with Physioplus
If you, a member of your family or a friend has been affected share your story on social media – don't forget to use these hashtags #WorldClubfootDay #ClubfootDay #1000ThankYousDrPonseti