Following on from his hugely popular wrist and hand courses, Ian Gatt is back to make you feel more confident in managing sporting elbow injuries. 
Sporting elbow injuries can occur in almost any athlete in all sports and in competing at all ages and levels. These injuries can have various causes such as acute trauma or overuse and range in severity from catastrophic to minor. An effective elbow management treatment plan should include the identification of the causative factors of the injury to guide the design of the management plan. It will also steer the rehabilitation progression plan in a systematic way, so the athlete can return to their prior level of function in an efficient and safe manner.
In two of our newest courses, Ian Gatt will guide you through clinically relevant anatomy and apply this directly to assessment and management of sporting elbow injuries. You will learn to apply your knowledge to return to play strategies.
The Tutor – Ian Gatt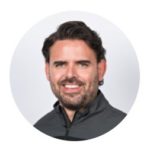 Ian Gatt (aka The Boxing Physio) is a PhD candidate and a sport PT with extensive experience treating upper extremity pathologies amongst Olympic and Paralympic athletes.
Ian has been a sports physiotherapist for over 20 years, with considerable time spent managing the sports science & medical services for the Great Britain Boxing programme. He has attended major events supporting elite athletes on their path to success through Athens 2004, Beijing 2008, London 2012, Rio 2016, and current Tokyo 2020 Olympic cycles. Ian is also a published author on research papers and is currently a PhD candidate in Upper Limb Biomechanics at Sheffield Hallam University.

The *NEW* Courses – Master Your Diagnosis & Management of the Elbow
Ian's Other Courses – The Sporting Hand & Wrist
Approximately 25% of all sports-related injuries involved the hand or wrist with so many bones, ligaments, tendons and joints this is no surprise. If managed properly most athletes return back to peak performance without any long-term diability or impaired performance.
Unfortunately some players go on to develop chronic injuries and long-term performance inpairment, particularly those in sports that require repetitive motions. In this three course series, Ian Gatt will provide you with the essentials to make sure your athletes recover back to peak ability.
These course have been accredited by the APC, SASP, TPTA and CERS. They are also recognised by CORU, the HCPC and US states under the State Board of Physical Therapy.