The 21st of March is World Down syndrome Day.
Inclusion is all about removing barriers,  barriers which prevent a person from fully, equally and independently participating in their society. Today is World Down Syndrome Day and there is no day like today in prompting us to challenge our outlook and think about inclusion for a group of people who battle day-to-day challenges.  What can we do to make the world a more accessible and inclusive place for a person living with Down syndrome?
Inclusion is about breaking down barriers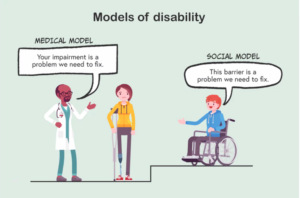 When we think of accessibility, we often think of the physical features of our surrounding environment. This is a dated way of thinking about accessibility because this confines us to only considering how a person's mobility and physical participation limits their participation in the world.  Rather we should adopt a broader view of accessibility and think much broader to include transportation, access to information, communication,  technology, mental and intellectual accessibility, relationships and friendships. This is a non-exhaustive list and is one of the challenges of coming to terms with what accessibility really means; we have to consider inclusion in everything we do.
Inclusion and accessibility go beyond the person, as it is a collective responsibility for communities and institutions to remove barriers.  What can we do in our day-to-day practice to remove barriers for those in need of assistance?
Inclusion is in the detail
Inclusion does not always mean making major changes to an institution, organisation or physical environment. It can be a simple change to a daily routine, a small thoughtful gesture or taking the time to see the world from someone else's point of view.   Inclusion means being purposeful, considerate to the needs of others and being an advocate for change at even the most micro-level. Remember inclusion should be a part of everything we do.
Take a moment to think about potential barriers or challenges for a person with Down syndrome.  What are some changes, however micro or macro, that we could make as a community to facilitate their participation?
With the ever-developing virtual footprint, we also need to consider what inclusion means virtually.  Here are some recommendations to ensure virtual inclusivity when developing a webpage, webinar or online course:
Include live transcription or closed captioning
Use high contrast colours on slides and with images
Allow the content to be size-adjustable, for example, text and images
Limit the amount of text on slides or on screen
Don't rely on colour to distinguish key elements
Speak clearly and slowly in simple language
Ensure high sound quality
Ensure a copy of the transcript or presentation is available
Present the information in different languages, where possible
Promote offline access to content
Inclusion impacts everyone
It can be a challenge to think about inclusion from a different perspective if we are used to feeling "included".  Inclusion will look and feel differently for everyone, but rest assured, we are all impacted by, and responsible for, inclusion and accessibility.  Think of a moment where you felt "excluded" and not fully able to participate in a situation.  How did you feel and what could have been improved to meet your needs?
The most impactful way to ensure inclusion for someone is to give them a voice.  Take the time to ask someone about their needs, you may be surprised by what they tell you.  Listen to what someone is messaging and model change through their voice.  Appreciate someone's story.
The best way to promote awareness of Down syndrome is for people with Down syndrome to share their own stories in their own words.  Click here to read their stories and appreciate their voice.