We have six brand new women's health courses available now on Physioplus.
It is estimated that one in three women live with some sort of pelvic health concern that significantly impacts their physical function, psychosocial well being, and overall quality of life. These conditions are wide and varied and may be further divided into subcategories of gynaecology, urology, obstetrics, pain science, orthopaedics, and more. Because pelvic health physiotherapists live at the junction of these subcategories, they are integral to helping women restore their pelvic health and function.
By taking part in our exciting new Women's Health Programme you will understand the current landscape of women's health and be challenged to view pelvic health through a different lens. You will learn the anatomy and physiology of the pelvic floor, as well as the most common conditions faced by women. A walk-through of physiotherapy assessment and treatment for pelvic health conditions will be provided. Lastly, there will be an important discussion about the impact of childbirth on the pelvic floor and factors to consider when working with women during the postpartum period and beyond.
The Course Instructor – Ibukun Afolabi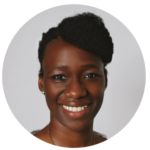 Ibukun is an experienced physiotherapist serving in the space where pelvic floor health, childbirth, and perinatal rehabilitation meet
Ibukun is an Integrative Physiotherapist with a passion for pelvic health and wellness. Her clinical expertise lies in perinatal rehabilitation and childbirth. She has been practising as a registered physiotherapist since 2007 and has worked in pelvic and perinatal health since 2012. Ibukun is a certified childbirth educator, certified postpartum doula, and she offers birth support for families as well. She is fascinated by the applications of pain neuroscience within the context of birth.
For nine years, Ibukun owned and directed a highly regarded niche physiotherapy practice located in London, Ontario, Canada. She and her team of pelvic health physiotherapists treated clients with a wide variety of women's pelvic health conditions. Ibukun's work now focuses on serving the perinatal population, coaching and consulting, teaching and training health and birth professionals, and delivering pelvic health programming both locally and internationally.
The Courses