A person who needs no real introduction, but who certainly deserves the recognition of being our first Top Contributor of 2022, Tony Lowe. Tony is a founding team member, has been with Physiopedia since the beginning and has certainly worn many hats. He has learned enough through his involvement in the profession that many don't realise he's not a physiotherapist. Tony wholeheartedly deserves this shout out as he is one of the kindest and most dedicated members of the team. He is involved in almost all projects, works tirelessly behind the scenes and is our go-to guru for anything technical. As a web-based platform, you can imagine how busy Tony can be at times. Please take the time to say thank you to Tony, as Physiopedia and Physioplus would not be where it is today without his support and efforts. Thank you for being our technical lifeline and a source of motivation to the team.
Your name: Tony Lowe
Time active with Physiopedia: A long time!  It's my fault Rachael attended that conference where the idea w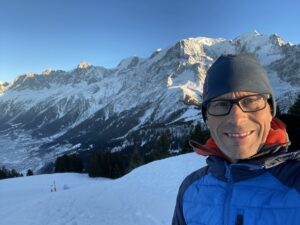 as born…
Current role with Physiopedia: Chief Technical Officer is the official title. I get involved in quite a lot of different stuff but not as much as I used to, as now we have a team who allow me to concentrate on the technical piece.
Where did you go to university/college? The University of Sheffield – a great city for an outdoor lifestyle in the UK and where I lived for 10 years and will always revisit.
Where do you work? I find myself working wherever I happen to be, so long as there is internet access and power for the laptop.
Describe your role: I now manage the technical team and focus on the web development and technology aspects of the work going on within the Physiopedia team. I like to stay involved in actually writing the code, but increasingly I am managing the coding being done by the rest of the team.
What is the most rewarding part of being a physiotherapist? I am not a physiotherapist, but I have spent my whole life surrounded by them. My mum was the first physiotherapist in my life.  From my perspective, it looks like a fantastic career with helping other people at its heart. It is also very intellectually stimulating and is continuing to progress through research, techniques and technology so there is plenty to keep you engaged and areas where you can contribute.
What are some of the more challenging aspects about being a physiotherapist? I imagine trying to stay up to date with the latest developments in the profession.  That is certainly the case in my work of education technology and web development.
What are some of your professional passions? The intersection of education, learning and technology, I find endlessly fascinating.
What are a few of your personal passions? I'm an exercise and adrenaline junkie.  Mountain biking, rock climbing and skiing are the current popular forms of personal entertainment.  Plus I love to travel and explore new places in the course of pursuing these activities.
What would be your advice to a newly graduating physiotherapist? Get involved in Physiopedia!  I think we are a great team and are always looking for new "stars" who can contribute while also developing their professional and personal skills through joining the team.
Where do you see yourself in 5 years? Probably doing more of the same surrounded by an even bigger and better team!
What are the best things about being a Physiopedia volunteer? There was a time when I would have considered myself a volunteer!  Helping to create something of enormous value to the global profession and so play a role in improving health outcomes and well being around the world.
How has being a Physiopedia volunteer helped your professional development/career progression? Once upon a time, I had another career. However, Physiopedia has now taken over!
What are your hopes and aspirations for Physiopedia? To continue to go from strength to strength while supporting all our fantastic team members.
What is your favourite Physioplus course? The next Massive Open Online Course (MOOC)!  Each year these open courses are a highlight for me.
Anything else you would like to share? It's been a pleasure and I'm very excited about what the future holds!