Not sure what you should be learning next? Our trending feature will help you decide how to take your career forwards in 2022.
The Omicron variant is spreading across the world like wildfire. Yesterday over 1 million people registered a positive COVID test in the USA and multiple NHS Trusts in England declaring critical incidents on a scale not seen since the pandemic started. Thanks to vaccine roll outs the the biggest challenge doesn't seem to be the severity of illness rather it seems to be workforce shortages caused by staff having to isolate. This means staff are being redeployed to cover the shortfall and are needing to brush up on the skills when treating patients with COVID-19.
Popular and Trending Courses on P+
This week saw three of our COVID courses become trending on Physioplus, the first time this has happened since late 2019. Since March 2019 we have published 23 pandemic related online courses and to date these courses have had 44,033 participants from 141 countries. These courses continue to be a popular learning tool and if you need to refresh your clinical COVID knowledge these are the courses for you.
A New Year Gift – Achieve Your 2022 Career Goals
2022 is starting in a tough way but this doesn't mean it can't be the best year of your career to date. Let us help you achieve your career goals this year by giving you 1-week free access to all 378 courses on Physioplus platform redeemable until the end of January 2021. Use the discount code PLUS2022 or click on this link to access your access now. Trial members can upgrade their account for a week by logging in, clicking on the upgrade button and adding the discount code (PLUS2022) to the discount box at check out.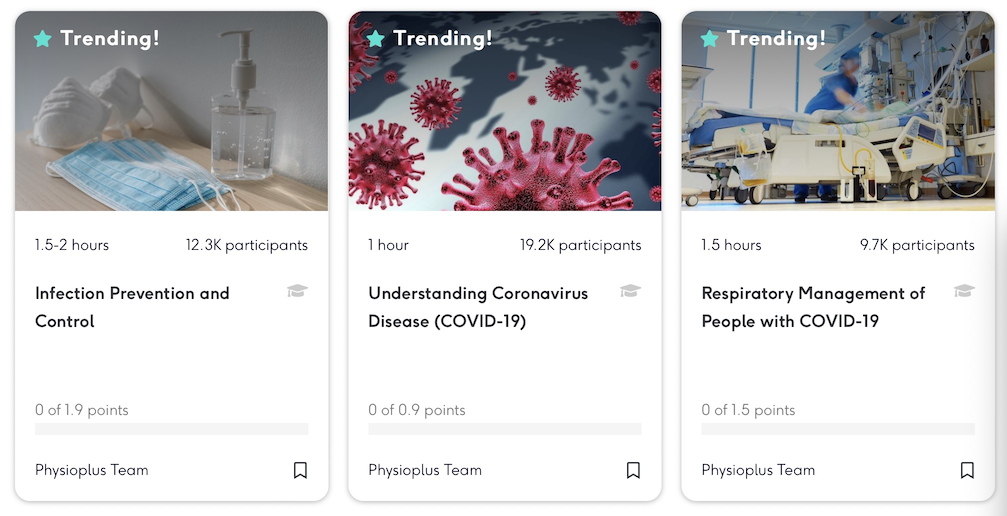 What Was Trending in 2021?
The trending tool on Physioplus tell's us a lot about what's going on in the physiotherapy community. In the final quarter of 2021 we saw a variety of courses trending focussing on physical activity and the lower limb possibly a sign of the autumn sports seasons starting in the northern hemisphere?
The trending courses in the final few months of 2021 are listed below (p.s you can try these courses for free by using this code).