It is the last opportunity in the year 2021 to recognise the outstanding contributions of a Physiopedia team member.  This final shout out for 2021 could not be going to a more deserving person.  Cindy John-Chu is a volunteer on the content team and is currently participating in our rotation programme, where she is able to contribute to different teams and projects.  Cindy is always eager to work on a variety of different tasks, finishing them quickly and always to a high standard.  Cindy has made a positive impact through her collaboration and open nature to try new challenges.  Thank you for your efforts, Cindy, you are a valued team member and making a difference.
Your name: Cindy John-Chu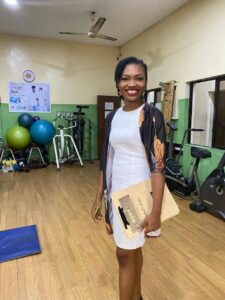 Time active with Physiopedia:  1 year and 3 months already.
Current role with Physiopedia:  I am part of the content team (reviewing and creating new pages), but I'm currently working in a rotation programme with Physioplus where I help in reviewing pages specifically for courses.
Where did you go to university/college? I have both a Masters in Science (M.Sc) in Neurophysiotherapy and a Bachelor's in Physiotherapy (BsPT) from the University of Ibadan, Nigeria.
Where do you work? I work primarily in private practice in the city of Port Harcourt, Nigeria.
Describe your role: My present role is that of a clinical physiotherapist and I specialise in both orthopaedics and neurological physiotherapy since most of the patients who visit the clinic fall in either speciality.
What is the most rewarding part of being a physiotherapist? Seeing my patients get better! Especially when they seemed like a difficult case at the beginning, but went on to surpass my expectations. It swells my heart with joy.
What are some of the more challenging aspects of being a physiotherapist?  Having patients who do not cooperate with exercise regimens and home programmes but expect to recover in no time. It can be frustrating.
What are some of your professional passions? Ultimately, to be in academia disseminating knowledge to budding physiotherapists. I am also fascinated with diabetic rehabilitation and its related fields. I'm passionate about exploring.
What are a few of your personal passions? I love (emphasis on love…lol) to create new recipes and to bake, and it warms my heart when my friends and family enjoy what I make.
What would be your advice to a newly graduating physiotherapist? That will be to explore. Physiotherapy is constantly evolving and it is likely that things you may enjoy in the profession may not have been covered in depth at school.
Where do you see yourself in 5 years? I should already have a PhD and be actively working to expand the frontiers of diabetic rehabilitation.
What are the best things about being a Physiopedia volunteer?  1)  Interacting with colleagues from different parts of the world. 2) Contributing to the body of knowledge and knowing that my inputs, together with those of others, are positively impacting our profession and the world at large.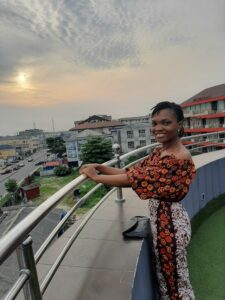 How has being a Physiopedia volunteer helped your professional development/career progression? It has helped broaden my knowledge of physiotherapy. Now I know the profession far exceeds what I was taught in school and my present scope of practice.
What are your hopes and aspirations for Physiopedia? Above all, to keep finding ways to improve and be better at what it is doing already.
What is your favourite Physioplus course?  The Low Back Pain course on Physioplus. There was a lot of transferable knowledge from the course to my clinical practice and I could see the results right away!