The PROSPER exercise programme is an impactful and cost effective programme for improving quality of life and function after breast cancer treatment.
There is a significant risk that after treatment for breast cancer women are left with musculoskeletal problems and long-term pain. Up to 1/3 of women experience restricted shoulder range of movement, lymphoedema or chronic pain after surgery and radiotherapy to the axilla.
Learn More About Living Well Beyond Cancer
Current guidelines after non-reconstructive surgery recommend a gradual increase in arm movement and if problems persist then refer to physiotherapy. However, optimal timings of referral and treatment protocol is unclear particularly for women at high risk of complications. Furthermore few trials have investigated the role exercise has to play in the rehab after surgery.
Therefore the aim of the UK Prevention of Shoulder Problems Trial (PROSPER) was to investigate the effects of an exercise programme compared to usual practice for women at high risk of disability after breast cancer treatment.
Methods
The PROSPER trial is a multi-centre RCT which took place across 17 NHS cancer centres. Women who participated in the trial were aged 18 or older with newly diagnosed confirmed invasive or non-invasive breast cancer who were listed for surgery and considered high risk of disability after surgery.
Participants were classified as high risk if they were; scheduled to have planned axillary node clearance or to have planned radiotherapy to the axilla or supraclavicular fossa, had BMI of 30 or more, had existing shoulder problems, had subsequent axillary surgery after sentinel lymph node biopsy or further radiotherapy after surgery.
Patients were randomised (1:1) to usual care only or usual care plus structured exercise. Because of the nature of the exercise programme participants and physiotherapists were unable to be blinded. Allocation and statistical analysis were performed by blinded team members.
The primary outcome measure used to evaluate the intervention was the DASH questionnaire at a year post-op. Secondary outcomes were assessed using questionnaires, numerical pain rating scale, FACT-B-4, SF-12 and EQ-5D-5L as well as other cancer specific tools and measures. the full methods are available in the full text.
The Exercise Programme and Usual Care
Best practice usual care involved participants being given leaflets which recommended postoperative exercises alongside generic advice. These were provided during pre-op clinic.
Participants in the intervention group received best practice usual care as well as being referred to physiotherapy for a supervised structured exercise programme. The programme is based on the principles of training and involved behavioural change strategies with motivational interviewing techniques.
The aim of the exercise programme is to restore range of movement in the shoulder, improve strength and increase physical activity. The programme was developed through a literature review, consultation with stakeholders including people living with breast cancer and undergoing surgery, community support groups as well as healthcare professionals.
The draft exercise programme was trialled and refined before being implemented. The programme consisted of a 'menu' of exercise aimed at targeting shoulder flexion, abduction and adduction with internal rotation, from which the physiotherapist could create a tailored, individualised programme together.
The intervention group received at least three face-to-face sessions at seven to 10 days, one month and three months post-op with a maximum of six sessions available over one year. The additional sessions could be delivered over the phone.
The initial session was 60 minutes with the rest being 30 minutes. Participants were asked to perform strength exercises twice a week with the aim of gradually increasing their activity level to 150 minutes per week.
Results & Clinical Importance
In total 382 women were randomised to receive usual care (n=196) or the intervention (n=196). The mean age of participants was 58.1 ± 12.1 (range 28-88) and 73% were overweight or obese with 21% having previous shoulder problems.
Overall uptake of the exercise programme was high at 95% and the average number of physiotherapy sessions was 3.7 with 97% of sessions being delivered face-to-face.
After 12 months the mean DASH score for the exercise group was 16.3 ± 17.6 compared to 23.7 ± 22.9 for the control group (fig 2 taken from the study below). For DASH the lower the score the better the improvement and it is thought that a difference of five to ten points is clinically significant and meaningful.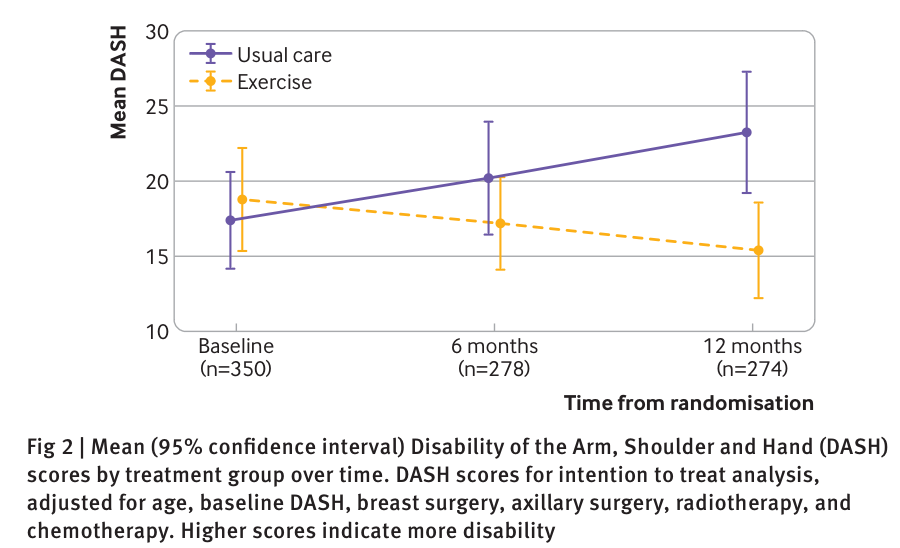 An intention to treat analysis demonstrated a statistically and clinically significant difference in DASH in favour of the intervention (unadjusted mean difference in DASH 7.34 (95% confidence interval 2.44 to 12.23; P<0.01).
All DASH subscales improved in favour of the exercise group. Pain intensity scores were also lower for the exercise group at 12 months (adjusted mean difference in numerical rating scale −0.68, −1.23 to −0.12; P=0.02) compared to the usual care group.
There was no difference in rate of neuropathic pain, wound healing, post-op infection or lymphoedema between groups. However, quality of life scores were higher in the exercise group.
On average the exercise programme cost an additional £129 per participant to deliver than usual care. However, when all costs are considered including healthcare and personal cost later in life the exercise programme leads to an average saving of £387 (95% confidence interval –£2491 to +£1718) per person.
Overall the PROSPER structured exercise programme is a clinically impactful and cost effective intervention for women living with breast cancer who have undergone non-reconstructive surgery and are at high risk of shoulder complications. It is safe to use in clinical practice.