Myofascial pain can be defined as pain associated with inflammation or irritation of muscle or of the fascial surrounding the muscle. It is a common issue which is estimated to affect 85% of the general population at some time during their life.
It's fair to say this is a condition all clinicians will come across at some stage of their career but despite this there is still confusion around how we should assess, diagnose and manage the condition.
In a brand new series of courses Dr Rina Pandya will clarify the pathophysiology, assessment, treatment and evaluation of the condition.
The Course Instructor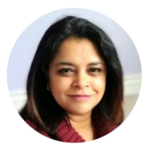 Dr Rina Pandya has an extensive physical therapy career that spans over 20 years, through the UK, the USA and the Middle East.
She has worked in the NHS and in American health care as a physical therapist with services in acute care, in-patient rehab, skilled nursing facility, home healthcare and outpatient clinic. Dr Rina has developed and presented courses for the last decade with excellent remarks from her course attendees. She has a knack of presenting complex concepts in a simple format with practical clinical outcomes and application.

The Courses