Another month has passed and we now have another wonderful opportunity to highlight the dedication and work ethic of a Physiopedia team member.  For the month of November, we are celebrating the efforts of Lenie Jacobs.
Lenie is part of the Physioplus Team as a Media Editor. She is a magnificently supportive team member and has been a great resource for newly joined members who are still learning the ropes.  Lenie is a natural leader and readily shares her knowledge and skills with others.  She also has a keen eye and is brilliant at carefully reviewing course videos and giving honest feedback.  Thank you Lenie for being a part of the backbone of Physioplus!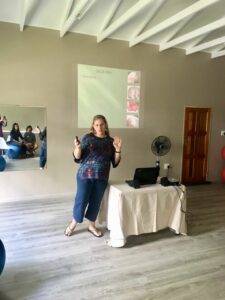 Your name: Lenie Jacobs
Time active with Physiopedia:  1 year 4 months.
Current role with Physiopedia:  Media Editor.
Where did you go to university/college? The University of the Free State in South Africa.
Where do you work? I'm currently working 4 days a week for Physioplus. I also assist my husband in his business with management, finances and marketing.
Describe your role: I'm part of the Media Team, working on editing for Physioplus course videos.
What is the most rewarding part of being a physiotherapist? Breastfeeding! When a mom walked into my practice in tears because breastfeeding hurts and the dad is on his way to buy formula… I love that moment where I can take their hands and help them to breastfeed successfully.
What are some of the more challenging aspects about being a physiotherapist?
I owned my own practice for more than 15 years. Most of the time it was a solo practice. In September 2020, I made the decision to leave clinical practice to spend more time with my kids that I homeschool, assist my husband in the management of his business and also work for Physioplus.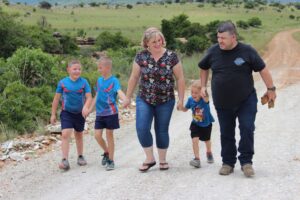 What are some of your professional passions? While I was still practising, I loved the field of Women's and Pelvic Health. I treated women during the childbearing year – antenatal care and classes, breastfeeding assistance and postpartum care. I also treated post-operative patients post-hysterectomy, prostatectomy, and other surgical conditions. Incontinence in adults and children as well as sexual dysfunction, pelvic pain, constipation and prolapse were also conditions that I worked with. Although these were my preferred clinical work, we were always staying in small towns, so you have to see all types of musculoskeletal, sport and chest patients as well.
What are a few of your personal passions? My family is my biggest passion. We have 3 boys (11-year-old twins and the youngest is 6). I enjoy spending time with them. We love nature and also enjoy spending time in the Kruger National Park spotting animals and doing some bird watching. I coach a mini-league action cricket team. I love to see how the skills of the kids develop and how they develop as a team.     
What would be your advice to a newly graduating physiotherapist? Make a conscious decision to leave work at work. As physiotherapists, we tend to carry our patients in our hearts and our minds because we love what we do and we really care about our patients. First, take time and resources to care for yourself and your family. That should be a priority.
Where do you see yourself in 5 years? This might be a bit boring, but exactly what I'm doing now… Working for Physioplus gives me the flexibility to homeschool my boys and be with my family and that is my dream.
What are the best things about being a Physiopedia volunteer? Focusing on women's and pelvic health throughout my career, I love to learn about such a wide variety of topics.  I enjoy the teamwork and I don't know how they've done it, but Physioplus make us feel like a team even though we work remotely.       
How has being a Physiopedia volunteer helped your professional development/career progression? I've learned so much from Rachael, how she manages Physioplus and Physiopedia. She is always ready to support us. She knows what is going on but also trusts us to do what we do. I've learned so much about business management from her which I implement daily in our business as well.
What are your hopes and aspirations for Physiopedia? That Physiopedia and Physioplus will grow from strength to strength (as they currently are), and that the team will also grow so that more people can experience how great it is to be part of this team.
What is your favourite Physioplus course?  I really enjoyed Deborah Riczo's Pelvic Girdle Programme.
Thank you for all your do Lenie!