Check out these top resources if you work with older people.
We've pulled together some of the best resources for clinicians working with older people. This list will be continually updated as more resources are made available so make sure you bookmark / revisit the page in the future. Included within this list:
Podcasts
Articles
News / Media
Online Courses
If you've got resources you think should be added let us know via @physiospot.
Podcasts
There are several podcasts focussing on frailty and clinical practice. Below are some you need to definitely check out.
The MDTea Podcast
This is a must listen to monthly podcast series which covers all the topics you need to know about from communication, palliative care, HIV in older people to polypharmacy. All done in a way which embraced MDT working and makes complex knowledge accessible to all.
You can listen to the entire back catalogue of podcasts via their website which includes additional resources, infographics and references. The podcast is also available via all major podcast streaming services.

Physio Matters Podcast – Frailty
In this episode of TPMP you will learn all about the day to day knowledge you need to know when working with older people living with frailty.
GEROS Health – Senior Rehab Podcast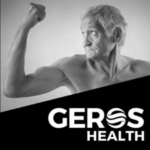 The Senior Rehab Podcast brings you helpful conversations for rehab clinicians that serve older adults. Dustin Jones, PT, DPT, CSCS, RKC, speaks with industry leaders to draw out useful, practical information for rehab clinicians.
Exercise prescription for older adults is an area of clinical practice which needs to improve and this podcast will definitely help you achieve this.
Essential Reading – Articles
Let's quickly run down the top 5 must read articles if you work with older people .
Sarcopenia: revised European consensus on definition and diagnosis
In 2010 the European Working Group on Sarcopenia in Older People (EWGSOP) published the most comprehensive guidance on the diagnosis and treatment of sarcopenia which went on to become the most cited article in the  journal Age and Ageing over the next decade. To say the least it moved sarcopenia into the mainstream of clinical practice and rightly so.
In 2018 the group met again to update the guidance in light of new evidence and it has some essential information for all physiotherapists working with older people including exercise and dietary protein advice. The article is available for free via the link below.
A Global Clinical Measure of Fitness and Frailty in Elderly People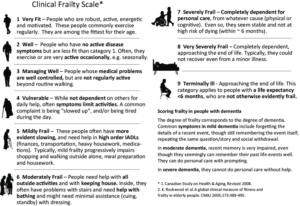 It's quite possible you've heard of the Clinical Frailty Scale (aka Rockwood Scale) if you work in an acute setting. It has been the focus of a lot of healthcare innovation in the past couple of years and has helped put the unique considerations of caring for older people to the forefront of clinicians minds.  But did you know the origins of the clinical frailty scale go back to 2005?
The tool is incredibly useful and a recent scoping review demonstrated it's power in predicting outcomes for older people in hospital. It was predictive of mortality 87% of the time and 100% predictive of complications during a hospital stay. It was also accurate of helping predict falls in hospital 75% of the time making it an essential tool if you're a physio working in an acute setting.
Explore The Origins of The Clinical Frailty Scale
Frailty in older adults: evidence for a phenotype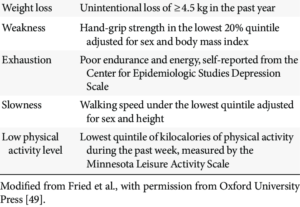 The clinical frailty scale isn't the only way of measuring frailty and there is a tool which pre-dates the CFS by half a decade. Fried's phenotype model was developed in 2001 and is favoured by many physiotherapists because of it's hands on nature.
Walking speed, fatigue, physical activity and physical activity levels and strength are the key areas of measurement for the model making it a physiotherapists dream of an assessment tool. It's even better when you consider using handgrip to assess strength as then you can assess sarcopenia at the same time!
Explore Fried's Phenotype Model
Strong, Steady and Straight. An Expert Consensus Statement on Physical Activity and Exercise for Osteoporosis
In 2017, Exercise and Sports Science Australia (ESSA) published their position statement on exercise prescription for the prevention and management of osteoporosis. This signalled a shift in the accepted frequency, intensity, type and duration of exercise needed to prevent a reduction in bone mineral density (BMD). Furthermore the statement cohorts patients into fracture risk which is fantastic addition. After all not everyone can be treated the same and have equal response.
Since the publication of ESSA's position statement the Royal Osteoporosis Society has gone onto update their exercise guidance and uses a lot of the same best practice guidance and is presented in an easy to use way for clinical practice. It is an essential read for anyone working with older people and osteoporosis. We've also made a quick reference guide on Physiospot.
Silver Book II – Quality Urgent Care for Older People
The silver book II is written by a group of international experts in frailty and addresses a wide range of urgent care issues specific to older people. Specifically this document is aimed at clinicians working in emergency departments and urgent care settings such as ambulatory care or assessment units however there is important clinical knowledge for everyone contained within the book.
The book is available online for free on the BGS website and is broken down into discrete chapters meaning you can jump to the most relevant section to you.

Essential Reading – New, Blogs and Media
There are a number of different ways to keep up to date with the latest developments in healthcare policies which affect older people.
Online Courses
There are some great courses out there available for free and some paid courses which offer excellent value for money. We have several on Physioplus that cover the basics but also develop your knowledge if you are already working as a specialist.