Physioplus has teamed up with the Animal Health Group of South Africa to provide you with the most comprehensive programme of courses for animal physiotherapists anywhere online. 
This programme provides you with knowledge of the similarities and differences between human and non-human physiotherapy patients through an exploration of the behaviour, anatomy, biomechanics, pathology and aetiology of common conditions seen in animal practice.
It builds on the existing training of qualified physiotherapists and provides the theoretical underpinning of animal physiotherapy practice. It should be undertaken in conjunction with a practical training programme in order to adequately prepare you for a career in animal physiotherapy.
The Tutors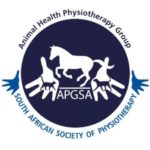 The Animal Physiotherapy Group of South Africa has been the leading provider of animal physiotherapy services in South Africa since its inception in 1986. As a founding member of the International Association of Physical Therapists in Animal Therapy, the APGSA continues to play an active role in the implementation of translational physiotherapy across species. The APGSA prides itself on high standards of evidence-based physiotherapy practice in the field of animal healthcare, and advocates for the physical rehabilitation of animals in a One Health context.
As physiotherapists with a foundation in human medicine, APGSA members understand that domesticated animals and humans function within a shared context, and successful management of animal pain and dysfunction requires an approach that addresses the bioethological function of each human-animal dyad. The APGSA provides continuing education and support to its members through training, workshops and conferences.

The Programme
The 13 Courses Broken Down
The 13 courses cover a wide range of topics and animals and can be broken down into three areas:
Introductory & Core Skills
Canine Physiotherapy
Equine Physiotherapy
You can find out more about each course below.
Four Introductory and Core Skills Courses
Four Canine Courses
Five Equine Courses