Explore mindfulness in the rehabilitation setting for both patients and clinicians.
It's time to help you and your patients exchange mind full-ness with mindfulness. In our brand new programme of courses Shrey Vazir will show you how you can achieve this by using the latest evidence from the fields of psychology and neuroscience.
With advances in neuroscience research, mindfulness has been found to be a safe, non-pharmacological management option for patients with chronic conditions, such as persistent pain. Mindfulness interventions not only reduce pain but also reduce stress, depression and anxiety. Mindfulness training has also emerged as a practical self-care tool for health care professionals to build resilience, compassion and empathy while preventing professional burnout.
The Tutor – Shrey Vazir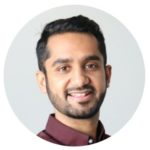 Having gone through a personal journey with persistent back pain, Shrey has embraced mindfulness into his daily practice – both personally and clinically. With his advanced training in the Mindfulness-Based Chronic Pain Management (MBCPM™) program, he has integrated the principles of mindfulness meditation to teach patients and healthcare professionals on how they can better cope with chronic stress, pain, and burnout.
As a passionate educator, Shrey has delivered multiple lectures, webinars and talks that have garnered much praise and attention from an international audience of rehabilitation professionals. As a full-time clinician who is well-versed with pain neuroscience and evidence-based rehabilitation practice, Shrey's mission is to inspire current and future rehabilitation professionals to incorporate mind-body approaches in their own practice.

The Programme
The Courses
These courses are available now for Physioplus members – join today so you don't miss out.