Since the start of the COVID pandemic we've had to think differently about how we train our staff. There are some great examples from around the world of innovative ways of maintaining development opportunities for physiotherapists in their place of work and blended learning approach is one such example.
Let's deep dive into blended learning and think about how it can be applied in your workplace to turbocharge your local educational opportunities.
Try Physioplus as Your Blended Learning Tool
What is Blended Learning
Blended Learning is a concept that has been around since the 1960s but the term "blended learning" was first seen in literature in the late 1990s and is used to describe learning that uses a combination of audiovisual, digital or online with face to face learning, either in a classroom or other similar setting.
There is still some disagreement as to what the exact definition of blended learning is, but there has been a general consensus for a while now. Despite this the term is often incorrectly used to describe distance learning such as  e-learning courses, distance learning and MOOCs.
There are numerous different ways of delivering blended learning and below is an inforgraphic which describes six different types. Remember it's the priciples which dictate the type of learning – for it to be truly blended it has to be a mix of different ways of delivering learning.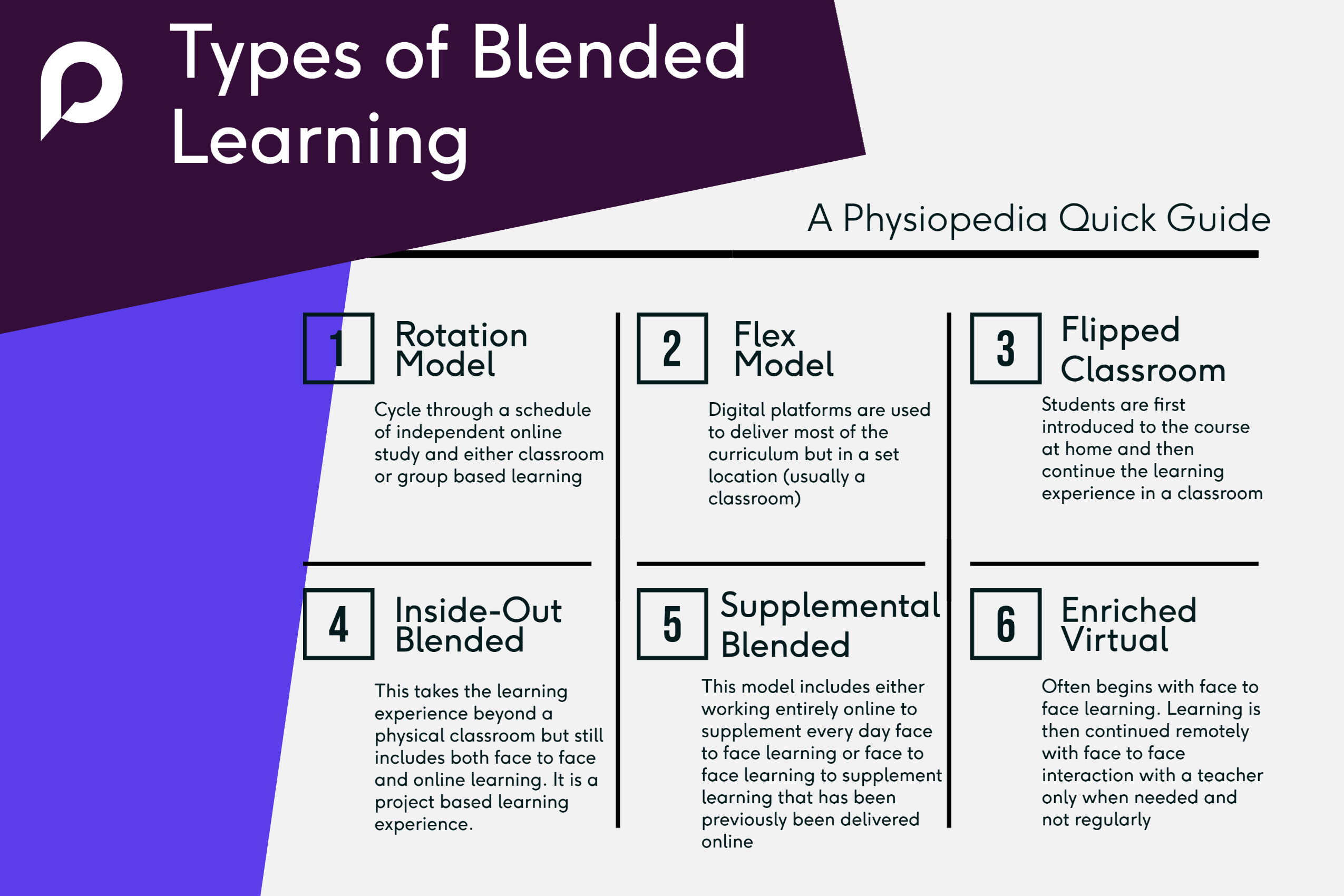 Blended Learning in Physiotherapy (BLIP)
There have been some recent discussions on how blended learning can be adopted into undergraduate and postgraduate learning, not only in physiotherapy but across all healthcare disciplines. Many studies focused on University based programmes but there is also a place for blended learning in the workplace.
This is especially true as a recent systematic review by Odegaard et al who compared blended learning, distance learning traditional teaching in physiotherapy education and found that blended learning is equally and in some cases more effective than traditional teaching.
Physioplus as a Blended Learning Tool – A Case Study
Physioplus provides everything you need to develop your professional skills independently or as a group. This is why P+ is the chosen platform for the Physiotherapy Association of Saint Lucia (PASL). Throughout the pandemic they have been using Physioplus as a blended learning tool for their members.
Each month the members choose a short course to complete and then they come together to discuss the clinical implications and reflect on the new knowledge as a group. This adds an extra active learning dimension to the online learning element by reflecting and sharing different interpretations on the new knowledge and skills together.  By doing this motivation is kept and a culture of evidence based practice is built amongst the group.
A survey of members was completed to evalutate the new style of delivering their training and results are very encouraging with 80% of members keen to try this approach for their CPD sessions again. For a successful active learning element Physioplus recommends you have a nominated person to facilitate conversations to make sure new thoughts and avenues are explored.
Why don't you try Physioplus for free and try blended learning in your place of work for your next training session?
Become a Trial Member for Free