Develop your understanding of human biomechanics with these excellent courses by Tolulope Adenji, a Physiotherapist based in Nigeria.
Biomechanics is the science of movement. When applied to a human body biomechanics provides us with an understanding of how muscles, tendons, ligaments and bones work together to produce movement.
Biomechanical principles play a major role in physiotherapy practice and in this new course available on Physioplus, you will go through the foundations of essential physiotherapy knowledge related to biomechanics.
The Tutor – Tolulope Adenjii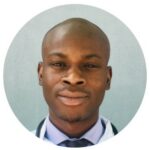 Tolulope is a physiotherapist from Nigeria specializing in geriatric physiotherapy. Having studied at the Obafemi Awolowo University and a terminal stage of MSc PT (Awaiting defense) in University of Maiduguri.
Tolulope has a specialized in ageing science and geriatrics practice including Brain modulation for pain, motor and cognitive recovery and enhancement and biomechanics as it pertains to ageing. He also has extensive clinical experience in humanitarian and physiotherapy institutions.
Tolulope is currently the CEO of Ganador Healthcare Services Ltd in Maiduguri, Borno State Nigeria. And he is also a practising locum physiotherapist with a Federal Medical Centre Nguru, Yobe state, Nigeria.

The Courses
These course have been accredited by the APC, SASP, TPTA. They are also recognised by CORU, the HCPC.