A brand new event platform for World Physiotherapy Congress has been launched ahead of the online only event which is due to take place between the 9th and 11th of April this year.
The platform is a cross-over between a mobile app and web page giving you a unique experience which makes navigating the sessions and discovering more about the presenters that little bit easier.
Only registered participants whill have access to some of the platform features but some is available for you to sample if you're curious about the event delivery.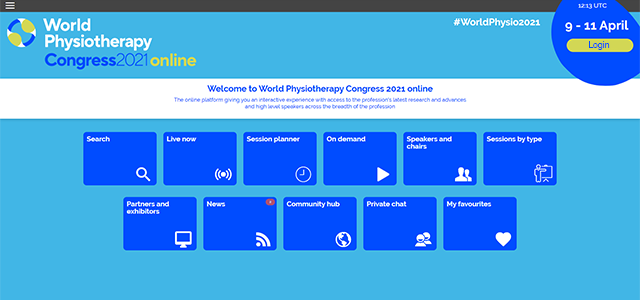 Real Time Translation Service
For the first time there will be a real time translation service at the event. This will be achieved using artificial intellifence technology which is a substantial step forwards for the accessibility of the event.
World Physiotherapy hope this will give participants the opportunity to take part in ways and help bring the #GlobalPT community together.
Almost 2,000 people have registered for the event already and you can join them now. At the event you will benefit from over 70 hours of live content across 90 sessions centrered about 6 parallel channels during the 3 days.