By using an adapted systematic literature review the authors of this paper have created a musculoskeletal remote examination framework which provides clinicians with some helpful tips and strategies to minimise communication errors and adapt physical examinations to a virtual setting.
Virtual and online consultations were always going to be a part of the future of healthcare and in particular musculoskeletal physiotherapy practice. COVID-19 has triggered a sudden and significant increase in the adoption of telehealth in physiotherapy.
In the UK there has been an increase of over 200% in the use of telephone or virtual consultations in musculoskeletal practice in primary care. Many clinicians have had to adapt and modify their assessments however there is still a lack of published literature on how to modify an MSK examination when working remotely.
A new framework has been published in Cureus which has set out with the objective of creating a framework for musculoskeletal clinicians working in primary care to adapt their assessments based on published evidence as well as community-sourced best practice.
Methods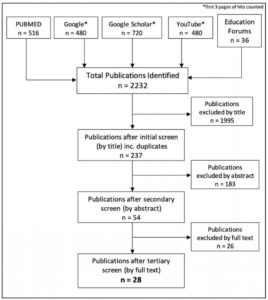 A structured search and review strategy was used to explore the current literature supporting telemedicine using both academic and non-academic sources. These sources include Pubmed, Google Scholar, Youtube and Google in adition to primary care educational resources and forums.
The search strategy used is shared in full within the full text and is appropriate for this type of narrative review.
In total 2232 articles and resources were found and as per the search strategy flow chart highlighted in the image above. After screening and review 28 publications were used as the evidence base for the framework outlined in the article.
Using the 28 articles as an evidence base, a list of commonly used MSK examination tests and techniques was created. Where there was evidence for a particular test being used remotely it was included. If there was no evidence  a modification of the face-to-face technique was made drawing on the experience of a practicing GP and orthopaedic consultant.
'Careful command sentences' (simple explanations of tests / movement or postures) were constructed to achieve clear instructions for a patient remotely and photographs for each test and posture was then taken.
All of this was then put together into a specific joint resource card which includes photographs of normal/abnormal tests where appropriate. These resources were then tests on a lay person to check efficacy of the verbal and photographic instructions.
The MSK Remote Examination Framework
The authors of the framework argue that by following the framework clinicians will be less likely to miss pathology during teleconsultation, however it is difficult to argue this without any empirical evidence to support this claim.
It is more likely that this framework will give clinicians a systematic approach to virtual consultations providing structure and elements of planned communication enabling more time to be spent on assessment and treatment and less time on logistics / admin of on-line examinations.
Pre-Consultation Tips
An example of how the framework can save time on adminstrative and technical elements of a virtual consultation are the pre-consultation recommendations which were gathered through primary care forums and youtube videos from reliable sources. This is an example of how searching non-academic sources of information can enrich academic findings boosting their real-world applicability.
As many patients wouldn't have had a virtual examination before simple technical mistakes are commonplace including using inappropriate devices, sitting in places with poor lighting or noisy environments all of which make accurate and timely assessments challenging.
A patient pre-assessment checklist is an easy way to make sure technical elements run smoothly and patients have a fair shot at setting things up properly. A full breakdown of other things to consider, such as screen sharing and contingency planning, can be found within the article.
Adaptation of Traditional Techniques
Telehealth doesn't require an entirely new approach to assessment and treatment more of an adaptation and tweak is all that is needed. An evolution per se. This is demonstrated in the framework suggesting adapting look, feel, move to look, point, move which reflects the increased role of patient participation within virtual consultations.

Joint Specific Resources
The framework contains helpful instructions and tips for specific joint examinations which include useful statements to help communicate particular movements and positions you would like patients to adopt.
An example of this is for shoulder external rotation is to say to the patient "keeping your elbows tucked in, show your palms to the camera by turning your arms out".
The images found within the resouces can be useful to share with patients during the consultation to help improve communication and confirm or refute hypotheses where you would have using physical techniques if working face-to-face.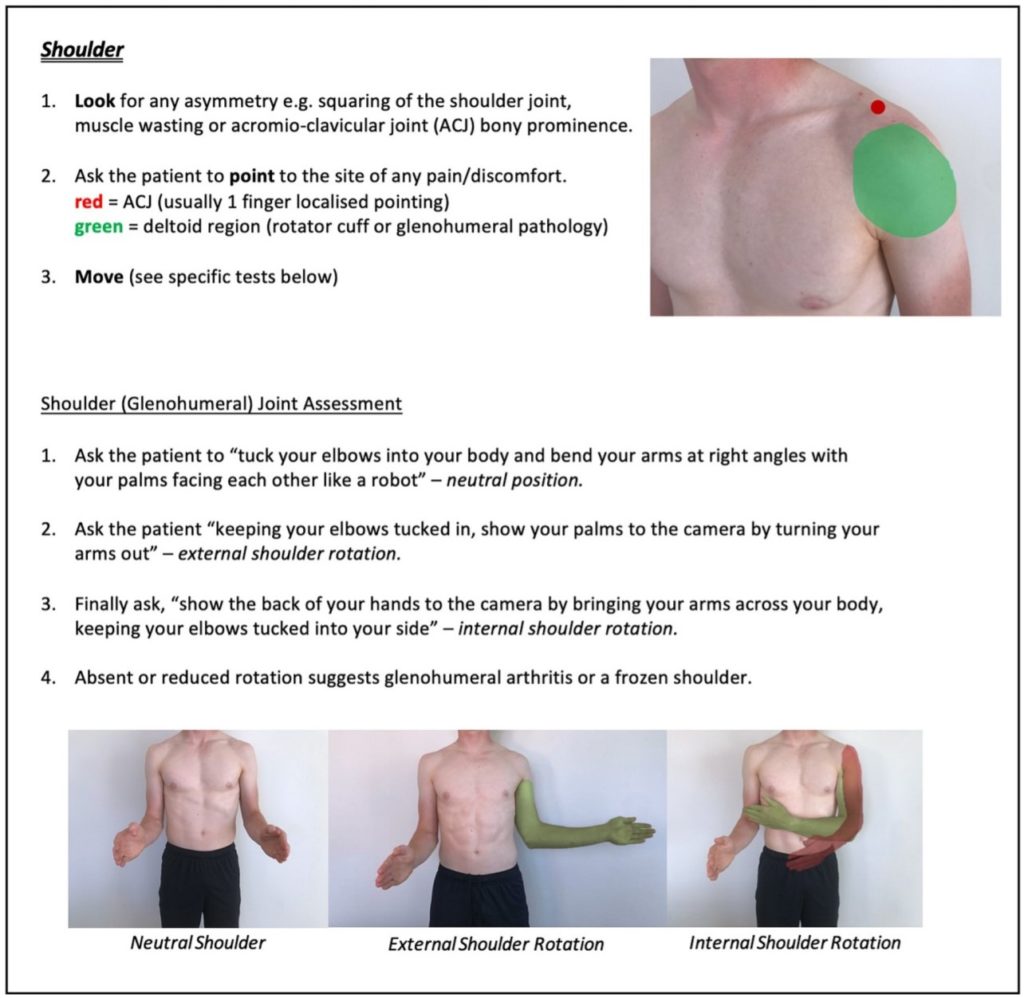 These handy resources have been created for the shoulder, elbow, wrist & hand, cervical spine, hip, knee, foot & ankle and the SIJ. All of the resources are available within the article which is available free in full text.
This framework is likely to be more useful for students or those new to virtual MSK examinations rather than clinicians who have developed and refined their own vritual consultation strategies. That being said there are some useful reminders of best practice within the framework.