Elevate standards of practice and clinical outcomes by joining the fast growing Physioplus community.
Physioplus offers an unrivalled online learning experience for physiotherapists around the world. It is setting the standard for what is possible through bringing together international experts and knowledge hungry curious clinicians. In this post we will explore the top 6 reasons for you to join the Physioplus community.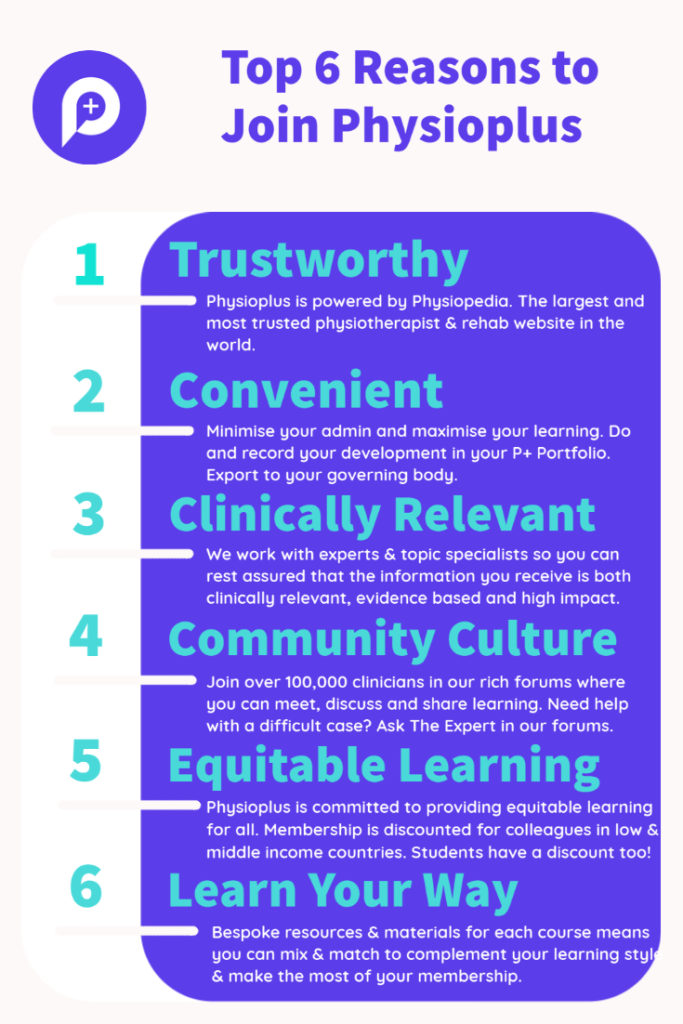 1: Trustworthy – Physioplus is Powered by Physiopedia
Physioplus is brought to you by Physiopedia the biggest Physiotherapy website in the world and a resource trusted by 2.5 million people per month. Physioplus uses the same knowledge, expertise and friendly community feel that Physiopedia is known and trusted for.
Physioplus is trusted by many professional member organisations as their educational partner. Member organisations like the South African Society of Physiotherapy and Irish Physiotherapy Society provide access to Physioplus as a member benefit and part of members' professional fees. We are also the preferred professional development provider of World Physiotherapy.

Feedback and testimonials from all of our courses are available for everyone to view to make sure you know what you are signing up for. We read every single piece of feedback to make sure we incrementally improve our users' experience and provide the best experience possible.
Physioplus is constantly updating as well as adding new content which is relevant to our community. We keep on top of the latest trends and needs of our profession so you can trust us to make sure your membership is always worth it's cost.
2: Convenient, Time Saving & Easy to Use
There are many time saving features baked in to the Physioplus platform. We want to minimise your admin and maximise your learning to propel your career development forwards. Physioplus is the only place where you can do and record professional development in one place, reducing the burden of repeated logins, multiple subscriptions and decision fatigue. Our inbuilt reflections and learning notes mean you don't have to duplicate or replicate your thoughts elsewhere. What's more is that you can export your learning and development log in a format recognised by your governing body.
We know it can be tiring trying to keep up with the trends and busy publishing schedules of podcasts, social media and latest evidence updates. That's why we have our repository of resources for you to use which we constantly update for your benefit. Furthermore we believe in curated content which is why you just need to sit back, wait for the notification and read your #TopTipsTuesday and member update emails to find out what's going on in the world of physiotherapy.
We are committed to saving our members time by only needing to log in once to access all of their needs. Our Physioplus PRO members have access to our telerehab platform which helps us to make you covid safe.
A Refined and Ever Evolving User Interface, No IT Skills Required!
You can rely on Physioplus to be at the cutting edge of what is possible on an online learning platform. The Physioplus tech team are experts in learning architecture, which means you get a unique, expertly refined experience that is responsive to your needs. The team is always updating the site and keen to incorporate your feedback into the foundations of the platform. Physioplus is a community and we love it when we involve our members in improving our platform.
The Physioplus team never stand still. We are a team of physiotherapists and, just like in clinical practice, we are busy improving things for our service users which means we offer value for money and scale of economy which cannot be matched. We are always open to ideas and are passionate about making content which indirectly benefits patient outcomes so please discuss your needs with us.
3: Clinically Relevant Courses Created by International Experts Accredited by Professional Organisations
We work with international reputable experts so you can rest assured that the information you receive is both clinically relevant, reliable and correct. We take pride in our product and we want the best for our users, which is why we work hard behind the scenes with our course tutors to make sure we get their flare and expertise across to you in the best way possible.
As proof of the quality we have accreditation for hundreds of our courses from a number of organisations around the world, including:
The Australian Physiotherapy Council
The Federation of State Boards of Physical Therapy
South African Society of Physiotherapy
Texas Physiotherapy Association
Californian Physiotherapy Association
Having accreditations with a number of organisations attests to our mission to provide the best learning opportunities possible for our members. It also means you can get your vital learning and development points in one place.
We have many other features to explore in our courses section of Physioplus. You can watch CEO Rachael Lowe walk you through them in the video below.
4: Access to a Likeminded Community
Physioplus provides a safe space for all clinicians from all specialties and countries to come together and share knowledge and then go on to transform patient's lives.
Our members only forum is also offers a rich learning and networking experience. There is also an opportunity to ask the expertcourse tutors questions to take your learning from the courses to the next level. Below is an example of the Ask the expert feature.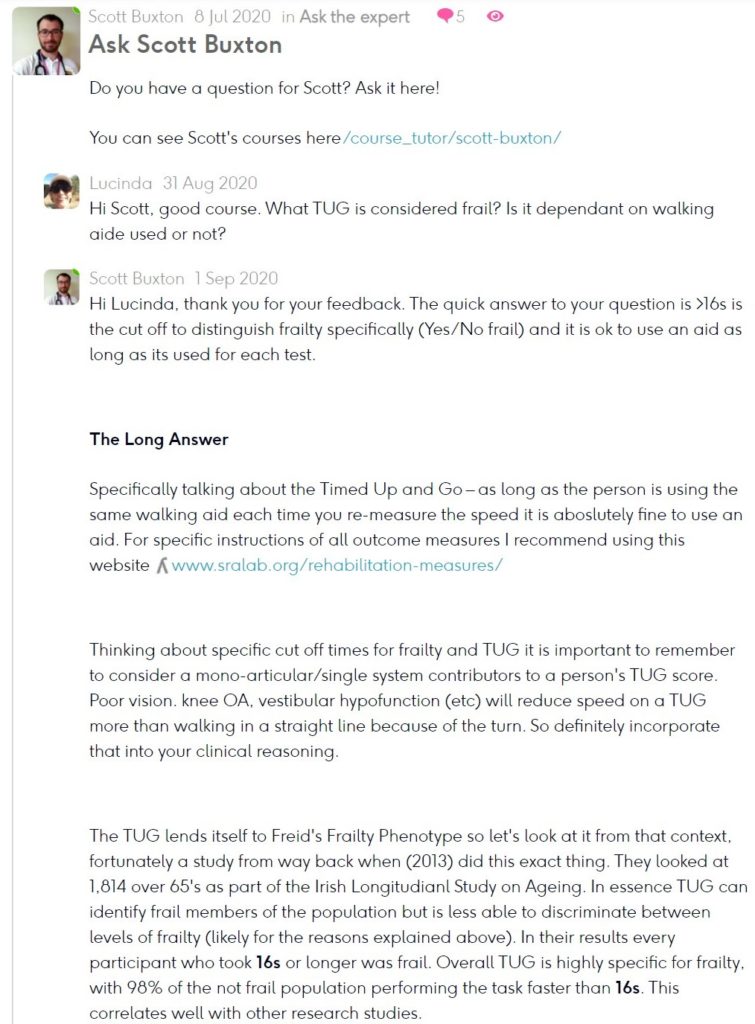 5: Access to Equitable CPD | Break Down Barriers to Accessing Professional Development in Low & Middle Income Countries | Discount for Students
Physioplus is committed to providing equitable high quality continuing education and professional development for our colleagues around the world. What this means is that membership is discounted for those living in eligible low and middle income countries around the world. The discount is funded through membership fees of those living in high income countries, in essence membership fees make education equitable and available fairly to all physiotherapists around the world.
We also offer students a 50% discount, this is especially important considering the disruption of COVID-19 to final year preparations for becoming newly qualified. Physioplus can help you gain confidence in taking the first steps in your career.
The Physioplus mission is to provide accessible and inclusive quality rehabilitation education and professional development.  In addition to this it is the revenue generating part of the Physiopedia project that supports all the charitable work that we do, including keeping the Physiopedia website free for all to access and giving people in low income countries free access to Physioplus.
6: Learn Your Way at Your Own Pace
We are experts in digital learning and we use educational theory to help underpin the foundations of Physioplus. We respect individual approaches to learning and the fact that everyone learns at different speeds and in different ways.
Physioplus let's you be you and overcomes the obstacle of fixed-pace unilateral teaching that can be found on weekend courses or short-course modules at university. We have numerous bespoke resources and materials for each course available to all members which means you can mix and match learning resource to complement your learning style and make the most of your membership.
Our members also have access to an information-rich collaborative forum which offers a blended style of individual and collaborative learning. If you still have questions after a course you can even ask the course tutor in the Ask the Expert section which offers an opportunity to stretch your learning even further.